Blog
5G network impact on mobile app testing
Check out what 5G connectivity will bring to the IT world and how it will modify mobile app testing.
31 May 2021
Having brought fast Internet browsing, high-def video streaming, and smooth mobile CX, 4G connectivity is on the way out. Today, we observe the advent of the wireless network revolution or 5G technology upsurge.
It's becoming a crucial part of online ecosystems while embracing millions or billions of devices and people. What's more, 69% of networking executives consider 5G as one of the most critical wireless means to perform their business initiatives.
Mobile software development and testing are reckoning on a new generation of connectivity. Let's clear up why this happens and discover how 5G will hit the IT world in the foreseeable future.
What will the 5G network bring to online users?
The main benefit of 5G connectivity is load speed. While the fifth-generation network has had rather striking test runs, its real-world speed depends on the infrastructure applied. When compared with 4G's theoretical maximum download speed of 300 Mbps, 5G could provide 10 to 50 Gbps.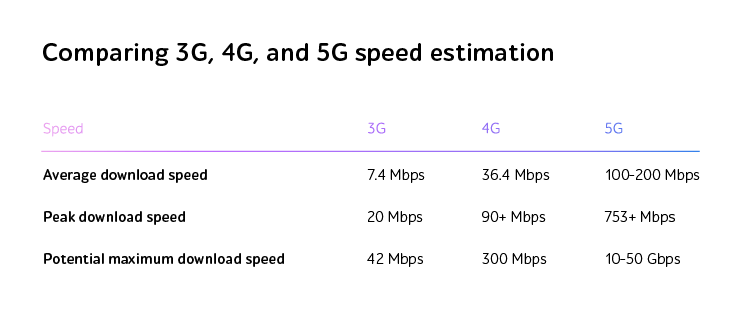 Source: 5g.co.uk
What's more, the 5G advantages go far beyond velocity — what about the boost in low latency, capacity, and quality? Yes, they are also included.
In most cases, delays in software operation impair user experience while adversely impacting the customers' loyalty that triggers their outflow.
Surely, no one wants to encounter such issues and their expensive fixes. So, this is where 5G comes into play with its ability to reduce latency to near-zero. While sending and receiving information, 5G may cut time to 1 millisecond which is 200 times lower than 4G. Sounds impressive, right?
With such great parameters of speed and latency, 5G enables increased connection density by embracing over 1 million devices linked up with the same local network. It reinforces the new era of IoT while exceeding the current mobile Internet frames as well as enhancing the AR and VR experience.
Who can benefit from broadband network connectivity?
Considering the active presence of end users in an online environment, network speed is a clue to better CX. The Zendesk Customer Experience Trends Report 2021 indicates that for 50% of the surveyed end users, CX has become a more essential aspect in choosing IT products than it was a year ago.
Superior video apps, improved AR/VR-based software, always-on devices in homes, and many more introduce a breakthrough to online end users while enhancing their CX.
Within closely operating with networks and the Internet, telecom and media players can make the most of the fifth-generation connectivity. With that, businesses are geared towards launching progressive initiatives derived from 5G to astonish their customers and entice new ones.
Moreover, 5G wireless technology holds the potential to help realize remarkable software transformations through reducing costs and elevating productivity. By applying it, companies intensify energy monitoring and management as well as strengthen its generation and distribution while enabling business growth.
The spread of 5G will also influence mobile app development due to the rise of portable devices and sophisticated means of mobile connectivity provided by 5G. What are the deliverables that pave the way for releasing more efficient mobile software?
Faster file transfer. It means better data processing that boosts app performance and handling a greater volume of information.
Broader IoT implementation. It accelerates the time to fully smart homes and cities within a possibility to interconnect billions of devices.
Better integration. 5G enables the flawless embedding of 3D modelling, cloud-based services, more accurate GPS, and other technologies.
Higher battery life. With increased speed, low latency, and less dependence on hardware, 5G needs less battery consumption while allowing users to interact with apps longer.
Of course, such technological improvements require exceptional attention to quality assurance before going live. Let's take a closer look at how mobile software testing may be changed with the surge of 5G.
How does 5G reflect mobile app testing?
The more advanced mobile app development is becoming, the more efforts businesses need to ensure the proper level of software quality. Quicker response time, better data processing, a broader range of novel technologies — all these and many other features push the envelope of mobile app QA and software testing. However, many of the questions surrounding 5G pertain to the network, rather than to the myriad of apps that will eventually utilize it.
The State of Testing Report 2021 by PractiTest showcases that 60% of QA within the surveyed companies are associated with mobile systems and technologies. With that, mobile app testing is gathering more attention. Let's figure out what testing types the fifth-generation wireless network is up to modify and how to navigate those changes.
Network connectivity
The sharp alteration of speed and performance may need a suitable response with new test environments. Acquiring 5G testbeds helps QA engineers verify the signal distribution, perform 5G design validation, and detect connectivity drawbacks at a physical level.
Security testing
Living in a world infused with IoT, security becomes a greater concern. Embracing millions of devices storing a massive volume of users' data, it brings information safety and privacy to the next level. The risk of data breaches is high, so precise security testing before going live is a must of IoT-based software development.
Compatibility testing
With the presence of over 750 5G-compliant devices in the IT market, 50% of them being mobile phones. These figures will only grow, extending the banks of test gadgets. By mimicking end-user conditions, verifying software on real gadgets is much more reliable than on emulators. Moreover, due to a great number of non-5G devices, it's vital to ensure proper work of 5G-oriented applications against lower-band gadgets.
Performance testing
With better file transfer, higher speed, and extremely minimal risk of delays, checking software performance requires right-skilled experts. Being predominant infrastructure in mobile apps, 5G will bridge the mixture of the 5th generation and legal networks. This mixed environment needs robust testing of mobile software interaction while verifying them on the numerous performance configurations.
In a nutshell
Being an IT innovation, 5G connectivity brings enhanced mobile broadband, low latency, and massively synchronized devices that enable worldwide adoption of IoT, AR/VR-based solutions, and a new normal of mobile apps.
Within novel technologies delivered by 5G wireless technology, mobile app development and testing are industries that will experience the fifth-generation network surge the most.
By thoroughly verifying in advance, 5G-oriented apps may bring the value of business growth as well as end-user satisfaction.
Reach out to the a1qa experts and be confident in releasing a high-quality 5G-based app.