Blog
a1qa shines as the finalist in three categories of the North American Software Testing Awards
a1qa is a triple finalist at the North American Software Testing Awards.
16 November 2023
We have achieved a remarkable feat by securing finalist positions in three categories at the North American Software Testing Awards.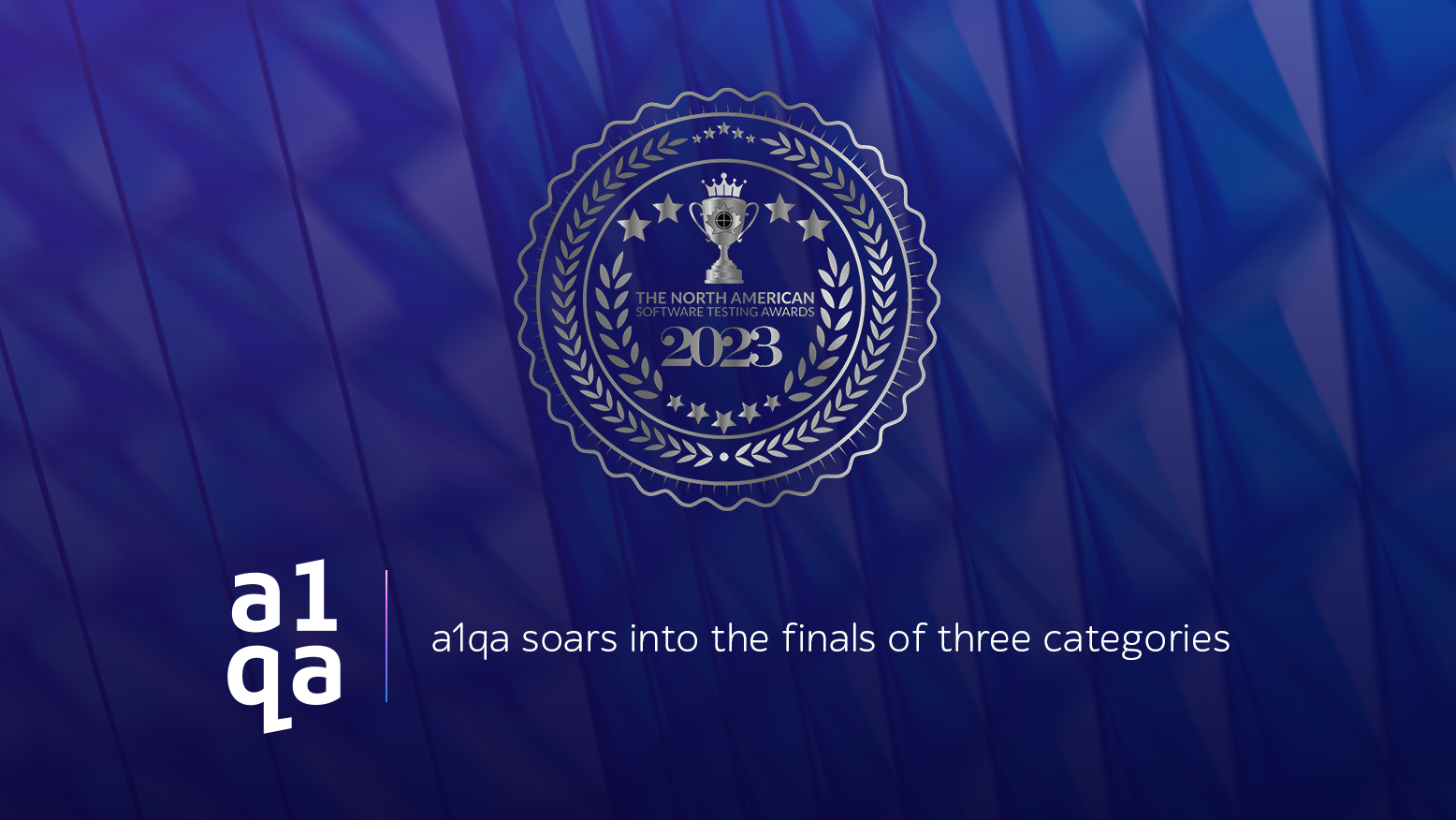 This prestigious program invites companies, teams, and individuals from across North America to showcase their exceptional achievements in 12 distinct categories. a1qa was recognized by the judging panel in three of them:
Best Test Automation Project – Functional
Testing Team of the Year
Leading Supplier of Products and Services.

Let's take a closer look at the projects that helped a1qa reach the finals!
Best Test Automation Project – Functional category
The client, a leading supplier of lab equipment, analytical instruments, and software for scientists, reached out to a1qa's support in cutting testing time and speeding up their IT solutions' delivery.
To aid the customer in attaining the desired business objectives, the a1qa team:
Shifted the client's team from the traditional Waterfall model to Agile in order to optimize the client's QA processes as well as allow early detection of bugs and release working software faster.
Automated regression testing to save hundreds of manual hours effort, enable a regular release cadence, improve code quality, and minimize associated risks.
Conducted functional and automated performance QA activities to enhance the quality of IT products and ensure they can handle high loads.
Recognizing a1qa's proficiency in test automation, the judges have bestowed them a finalist position in the Best Test Automation Project – Functional category.
Testing Team of the Year category
To enter the Testing Team of the Year category, a1qa submitted a project carried out for a well-known US-based software developer of a 3D avatar social app.
The team of a1qa's engineers and a manager were assigned to help the client cope with the increasing workload under pressing deadlines, efficiently release new features, enable failsafe operation of software that leverages 3D technology, and grow revenue.
They delved into the nuances of software operation, integrated into the client's Scrum-based workflows, and provided the following extensive QA support:
Performed functional testing to enable uninterrupted release of high-priority and complicated IT solution's features.
Improved existing test automation processes by migrating to a new framework, establishing integrating with TestRail, writing tests, reviewing code, and applying AWS Device Farm — all to optimize operational costs and speed up testing cycles.
Aided in rolling out high-quality and reliable software, contributing to revenue growth.
Leading Supplier of Products and Services category
To be a finalist in this category, a1qa has demonstrated that customers are at the core of its business. More than just words, we thoroughly analyze business needs, quickly initiate projects, join a project at any SDLC stage, prioritize customer needs throughout the entire development life cycle, and suggest enhancing QA processes on the projects if there's space for improvement – all to meet set clients' business objectives.
We incorporate ISTQB-based processes and ISO 9001/27001 standards to effectively manage projects, protect clients' data, ensure high process transparency, and always deliver services of the highest quality.
To cope with any arising concern of its clients, a1qa offers a comprehensive suite of QA services and regularly develops tailored, industry-based QA solutions to help clients attain multi-step business objectives, such as digital transformation or implementation of Web 3.0 software.
The company swiftly responds to changes and ensures business continuity regardless of the circumstances. It was demonstrated during the pandemic — a1qa seamlessly transitioned to a work-from-home model and designed a training program for each project, so any team rotations are smooth and quick, enabling uninterrupted service delivery.
Flexibility is another pivotal aspect of our service, with a pool of over 1,100+ QA engineers performing projects for companies across 10+ industries. A unique scaling approach allows increasing the team size by up to 29 times, ensuring adaptability to evolving project requirements.
a1qa also provides quick access to specialists with the required level of expertise and thus helps its clients save costs as they don't need to spend time and financial resources on onboarding and educating internal staff. To be precise, a1qa cultivates a culture of excellence through continuous upskilling. The a1qa Academy offers over 100+ tailored courses, enhancing competencies in high-demand areas, such as AI in test automation, advanced SQL, and cloud-based CIs.
Given this holistic approach to delivering QA services, 90% of our clients choose to cooperate with them on subsequent projects.
Therefore, the judges positioned a1qa as a finalist in the Leading Supplier of Products and Services nomination.
Final note
Entering three prestigious categories at the North American Software Testing Awards serves a testament to a1qa's commitment to delivering high-quality QA services and providing value to clients across the globe.
Contact a1qa's experts today and discover how they can help you elevate your software quality.