Blog
Following six main 2020 retail trends with QA
In this article, we are talking about how QA supports prime retail trends.
27 May 2020
Annually, retail experts draw up lists of trends that are expected to shape the year ahead. However, the changes in the global context have affected the nature of the retail industry progress in 2020, giving the first place to developing technological aspects and, as a result, enhancing the quality of software solutions.
In this article, we are talking about six key retail trends for 2020 and explain how QA helps follow them accurately.
Increasing internal processes speed
Only in the USA, retail sales were expected to grow by 2.0% to $5.574 trillion in 2020. Still, the global outbreak with its tough predictability is making unexpected and unpleasant amendments to the retail industry development.
How can a company speed up the in-house processes to win the competition and enhance success rates? Take business operations to online and help the customers go online too.
Let's have an example. Retail giants like Amazon have set high standards for the speed of accepting and processing user requests. There, it takes less than a day from a click on a site to unpacking an order.
Global studies testify how it is vital to decrease consumers' time spent on getting what they want. More and more end users are ready to pay extra money for their time saved, raising the expectations bars high.
However, some things don't change: as you can see below, the speed of loading pages practically did not modify in 10 years.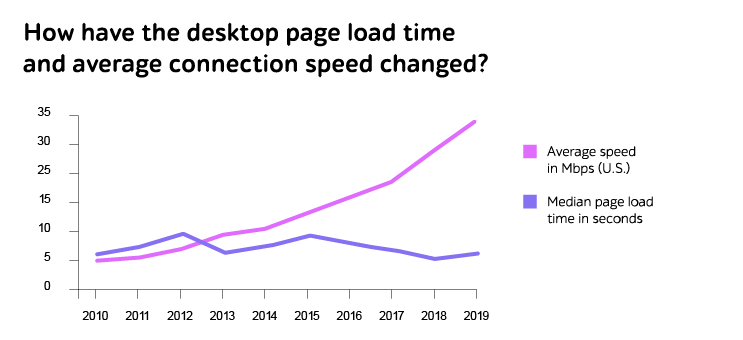 In an unstable situation, it is essential to go beyond the expectations and do the utmost to level up the customer experience. With the growing needs of digital consumers, it's high time to adapt the products in online space to end-users expectations and implement an individual approach.
Here is an idea of how. If the goods delivery speed highly depends on logistics, including multi-level collaboration across many services, development of logistics as a service, and more, than why not optimize this process and create the platforms that can ensure high-paced delivery?
This is where one can see the ever-evolving need to ascertain the flawless functioning of the software and identify performance bottlenecks as well as ensure that the IT solution can cope with the required load. To deliver a truly top-tier app, you can go for full-cycle testing encompassing the perfect match of required testing types like cross-browser, usability, mobile application, migration testing, etc.
Undergoing digital transformation
In recent years, by adopting new IT apps and fundamentally reorganizing internal processes, this trend has intensified its influence.
Retail companies that have already made a transition to the digital environment and adapted their businesses' processes to the online space, embrace a larger part of the target audience. An additional advantage for many of them was the development of proprietary software products like mobile applications, digital assistants, etc.
Why isn't it high risky now? For instance, the share of mobile traffic in retail is only growing. A 2019 study showed that 46% of U.S. users surveyed used mobile apps to search for additional information about a purchase or service and made at least one purchase last month. And with the rising use of mobile devices throughout the outbreak, the importance of assuring their quality is raising multifold to deliver the debugging software that astonishes end users. At a1qa, we conduct checks on real mobile devices from the 300+ device fleet to take into account all software versions.
Using Big data for analysis
Big data helps reveal relevant patterns and trends in users' purchasing behavior, accurately predict the best prices, and plan sales activities. By investing in applying this technology, retail companies can understand their consumers better and deliver more personalized products by changing pricing strategies almost instantly and rapidly responding to market changes.
With this, retailers can avoid constant price reductions in a wish to be the first in the market.
Consider that working with unstructured datasets containing vast arrays of information involves evaluating their quality to get expected business results and build solid strategies. In this case, big data software testing can help ensure fail-safe performance, high data integrity, security, user-centricity of your IT architecture.
Implementing AR/VR technologies
Virtual and augmented reality have already been enhancing the online customer experience for a couple of years. Today, the development of VR- and AR-based solutions are most relevant when people around the world tend to spend more time at home. For example, IKEA uses AR-based features in its application so that users can place virtual furniture elements at home.
Such innovations serve as an example of frictionless commerce when the user takes a minimum of actions, and the process of choosing and buying a product is simplified.
However, the flip side of virtual reality is the high user's expectations. In a short time, really great applications attract hundreds of thousands of new users. AR/VR testing helps protect sensitive user data against cyberattacks, ensure high user-centricity of UX and UI, ascertain that the software product can work under high loads, and more.
Localizing software product
Localization is especially relevant when scaling the retail ecosystem with the advent of new markets.
Many companies not only translate sites into other languages but also create independent digital platforms, taking into account the cultural and local characteristics of the region. It is not surprising that the majority of users prefer websites in their native language. While the poor-quality adaptation of the resource to the understanding of end users can lead to dissatisfaction, the decision is to conduct localization testing providing compatibility control with regional standards, GUI compliance, and uniformity of lexical and visual style.
Automating business processes
Reducing routine tasks frees up the resources of companies. Take Amazon Go stores that successfully operate without cashiers having 26 stores.
In the coming decades, the self-checkout systems are expected to become very common, and this is just one example of how the processes can be automated.
In the crisis, take some time to review, which repetitive processes can be automated, and take some care about them now to exit the unstable situation with new prospects.
Automation can also become part of the quality assurance process. Test automation is a wise business decision being a long-term investment in the future, helping repeat checks while minimizing the human factor and helping conduct testing at the scheduled time with minimal load on the server.
In uncertain times, by following these trends and being forward-thinking, the businesses in the retail industry can grow more actively. One of the most important vectors of efficient companies' development is the attraction of technology and the progress of new IT solutions.
We can already say that the spread of the pandemic has accelerated the formation of a highly integrated digital retail network. Experts believe that we should expect the acceleration of transactions from 12% to 25-30% in the United States and from 25 to 60% in China.
However, the success of the software product in the market largely depends on its quality. QA can help maintain quality at the level that is necessary for users in the face of growing competition.
Would you like to evaluate the quality of your retail software product? Contact a1qa experts to do it right.