Blog
How to build proper test automation strategy
What are the vital steps to take to build a solid test automation strategy? Find out in the blog post.
19 June 2018
Working on a software delivery project? Then one day you'll definitely face a tough question whether or not test automation should be introduced to help you achieve your goals.
Before starting to look for a team of professionals who'll select the right tools, set up test environment and develop a suite of automated tests, you should decide for sure why and, more importantly, what you want to automate.
Why to automate?
Well-built test automation makes it possible to respond to a number of common software testing challenges: to get faster test results, reallocate resources efficiently, save QA and testing budget, ensure the possibility of closer infusion of testing into the existing product development processes.
What to automate?
Three factors should be taken into account when deciding on what to automate: your software product strategy, opportunity cost, and business value of the functionality. Let's specify them all.
Contact us to get an obligation-free consultation on test automation.
Product strategy
This is the first issue that should impact your test automation approach. Do you work on the product that will become the flagship for the company in the next decade? In this case, there is no focus on the speed of release and the development will be conducted in a steady pace.
Or are you developing a prototype of the app and need a fast feedback from the target audience? In this case, time to market will matter most.
Certainly, the approach to test automation will never be the same in both cases. You won't invest heavily in automating testing of the prototype, while the flagship product may be worth huge automation investments.
Opportunity cost
Cost of automation depends on the readiness of the product and process of the automated testing implementation. Therefore, it's important to know all of the test automation stages.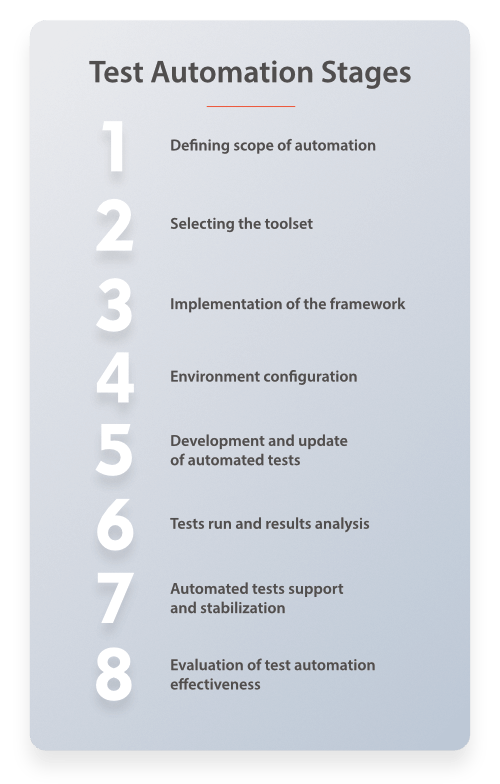 Agreeing on how long you can spend in all these stages will determine the scope of the future automation solution.
Business value
Measuring business value is a tough proposition. The value depends on the product developed, its objectives, and the specifics of the business domain. A metrics-based approach may be applied to prioritize the functionality. Identify real-world metrics to estimate the business value of every functionality.
In this blog post, we'll tell how our test automation team built a highly effective test automation strategy that led to the outstanding results.