Blog
6 BFSI trends and how to implement them with QA
Explore how to stand out in 2021 and beyond by smoothly introducing BFSI trends with QA support.
30 June 2021
While the crisis makes businesses across multiple industries accelerate digital transformation programs, most BFSI companies have already begun that before the pandemic. However, they should adapt faster keeping in mind the mass migration of users to online platforms due to increased competition and expanded software quality standards.
To keep up with such a high pace and enable business resilience, BFSI industry representatives should stay flexible and promptly adopt innovation. So, what is the starting point for this transformation? How to perform it effectively to stand out in 2021 and beyond?
Check out the top 6 trends and a four-step QA guide helping BFSI companies revamp their working processes and meet end-user expectations.
BFSI trends for next-gen software products
Within an overwhelming technological diversity, what aspects are the pressing ones bringing true value to the business in 2021?
Trend 1. Implementing open banking solutions
The introduction of the second payment directive PSD2 became a push for the development of open banking in Europe. In turn, this allows market players to gain access to the clients' financial information while generating a sizable number of the system's participants and provoking higher competition. Several countries have already presented their solutions, for instance, SGFindex in Singapore.
In 2021, BFSI companies will continue introducing open banking while increasing the variety and quality of services at a lower cost.
Trend 2. Automating SME support processes
The pandemic has also impacted small and mid-sized companies by increasing the lending rates, so that 50% of SMEs cease to exist. Enabling business continuity and addressing the costs challenges, financial entities are keen on developing business support packages within a high request for online support.
For example, the Royal Bank of Canada (RBC) has been giving users the ability to interact with smart chatbots for several years, which improves the quality of service. The bank has also adapted its mobile app and Internet banking capabilities to support its online business.
Trend 3. Customizing financial services
Since 2019, CX has been entering the list of tech trends. Today, end users, especially Generation Z clients, have become more fastidious and require to be treated as individual customers rather than a segment.
So, financial companies need to apply deep data analytics and form a digital ecosystem to deliver a unique set of banking products based on end-user needs and preferences.
Trend 4. Empowering software with biometrics
Within an increased risk of facing cybercriminals, users need more advanced data protection methods while making financial transactions.
Statistics Market Research Consulting showcases that the biometrics market size will reach $76.64 billion by 2027. The authors of "Biometrics — Global Market Outlook (2018-2027)" also predict significant growth in the biometrics market in the coming years, becoming one of the most reliable options for ensuring the security of personal data.
But the use of unique physiological features in the authentication process goes beyond fingerprints or habitual Face ID. The iris of the eye, voice recognition, vein patterns can be utilized to confirm the identity as well. Another factor that increases safety is the use of survivability algorithms that distinguish humans from reproducible digital images helping end users be confident in financial products offered.
Trend 5. Enhancing global financial health
Did you know that about one in ten Americans cannot pay their credit card bills monthly, according to the study by Cornerstone Advisors? It makes sense that attention to personal budget stability will be in focus this year, and specialized software can become the desired tool for managing financial processes.
Even until recently, users gave preference to software based on their convenience. Soon the ability to maintain their stable financial position may come to the fore. We're not only talking about information support, but also about the development of original software to optimize financial transactions.
Trend 6. Shifting to the cloud
BFSI is one of the most significant segments that apply cloud services within 16% of the global cloud computing market share.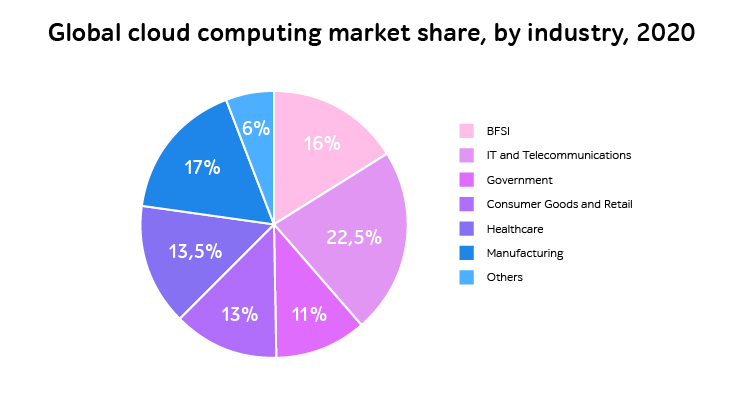 Source: fortunebusinessinsights.com
Along with providing high scalability and flexibility of the system, moving to the cloud helps reduce the costs for maintaining corporate infrastructure.
To effectively implement cloud solutions, it is valuable to form a quality assurance strategy helping identify critical defects and prepare to go to market.
Four-step QA guide to adopt core trends
QA allows 66% of the World Quality Report 2020-2021 BFSI respondents to achieve the required test coverage largely due to a shift-left concept. To help navigate through incorporating trends with confidence, let's delve into the 4 steps to make.
Step 1. Choose Agile to ensure continuous improvement
27% of the WQR's reps prefer applying Agile in their BFSI projects. Even the 2% growth comparing to the last year shows that the change not only in the industry form but also in its fundamental processes.
According to WQR's experts, to successfully implement digital strategies, about 80% of companies will begin to rethink their products, services, and formats of cooperation with vendors and customers.
Step 2. Design a QA strategy to test innovation
The global trend of implementing AI, ML, IoT, cloud services requires more sophisticated tools and exceptional expertise to obtain more value.
By improving QA practices, companies can test software with any business logic complexity supporting digital personality (a virtual user version becoming another venue for protecting personal data). To test it accurately, QA engineers use complex mechanisms even in a remote format.
Step 3. Accurately build the QA process
Before starting the software process, think over a QA plan. Which mission-critical testing types to include? How to prepare the testing environment? Which tools and methods for monitoring to apply? Is it better to rely on an in-house QA team or onboard an offshore one?
Then, move on to the testing process to evaluate:
Confidentiality and security of personal and financial data
Compliance of planned financial transactions with laws and regulations
Security of transaction processing
Speed of handling client requests
Coverage of customers' needs
Usage of information from the client DB
Possible threats to the security system.
Make sure the QA team detects code defects at different levels: from individual modules to the principles of their interaction.
Step 4. Implement test automation to speed up product delivery
It's no surprise that companies are increasingly using automation when developing QA strategies in the financial sector. Who does not want to accelerate t2m, reduce QA costs, enhance test coverage, etc., right?
However, test automation does not mean completely rejecting manual tests – this is especially true for UI, conducting exploratory and ad-hoc testing. A wise decision is to find a balance between automated and functional testing as well as automate at different SDLC stages not to miss anything.
Closing thought
The focus on online services and operations is shaping new trends in the BFSI industry. Implementing innovations with constant QA support helps businesses get confident in the relevance of the software in the market and ensure its high quality and reliability.
Do you wish to get advice from the testing team? Reach out to a1qa's experts to get your BFSI software ready to go live.