Blog
Top 5 QA and software testing trends in 2021: responding to a global situation with ease
Rapidly approaching 2021, a1qa proposes to have a closer look at the most influential trends empowering QA teams to perform even more effectively.
18 December 2020
The expiring year has brought in a novel, unexpected aspect affecting literally every sphere of our lives. Of course, we are talking about the "black swan", pandemic, outbreak, and more terms defining the "what shall not be named."
In 2020, companies have en masse embarked on digital transformation journeys, educational facilities and gyms have launched online sessions, travelers have switched to sightseeing in virtual reality. And a way more examples may be provided.
What do they have in common? Sure, technology lying at the heart.
Reversed business landscape has triggered out-of-the-box thinking, which often goes hand in hand with implementing innovations.
This is where QA comes into play. Introduced early in the SDLC, it helps avert product recalls or shrinking revenues.
But how to effectively organize your quality assurance ecosystem in 2021 to address the economic recession and still win the game?
In the article, we've focused on 5 main QA trends to consider for moving toward an optimistic business forecast:
QA trend #1 – Evolve Agile and DevOps landscape
With the advent of a pandemic era and a great choice of apps to help get through it conveniently, users have become much more fastidious. So, the need for deploying catchy products has become overwhelming.
With that in mind, organizations get on with Agile and DevOps adoption aiming to downsize time to market and deliver software of superior quality. Despite the overall tendency of merging QA and development functions, World Quality Report 2019-2020 (WQR) affirms that 42% of IT business spokesmen noted a gap in professional expertise of agile testing teams. Meanwhile, another half highlighted the alignment of toolkit for automated verifications as the major hindrance.
Therefore, to ensure high software quality throughout and after Agile and DevOps transformations, organizations may :
Leverage test automation for accelerating QA activities
Involve software development engineers in test (SDET) possessing a sought-after skill set
Introduce automated quality dashboards to provide high process visibility.
But more importantly is to perform the transition in line with tailored business needs defined within the company.
QA trend #2 – Count on AI for continuous quality improvement
The Forrester research predicts that in the year to come, AI will face a boom. Organizations will utilize novel AI use cases like performing holographic meetings for remote work. A third of adaptive companies will invest in AI to cope with workplace disruption including, return-to-work health tracking, and more. Sounds impressive, right?
Promising also is the future of AI in a quality assurance field: 88% of WQR's respondents emphasized that AI comprised the greatest growth part amid their test activities.
What's more, despite current complexity caused by the lack of expertise or skills, companies already utilize new approaches to turn the tide. In particular, WQR highlights analyzing production incidents to forecast a future quality level and plan QA scope accordingly and generating and managing test data to extend test coverage by revealing its gaps.
Even quality assurance of sophisticated AI systems is marked by cautious progress. For instance, eHealth manufacturers create standards able to verify AI-enabled algorithms, while automotive companies use AI algorithms' validation in advanced driver-assistance systems.
What can organizations undertake to increase testing efficiency through AI in 2021? Implement AI-enabled tools, introduce continuous improvement of employees' skill level, and focus on attaining business objectives.
QA trend #3 – Keep automating to support increased development pace
Despite high volatility in released applications, test automation deployment continues to gain momentum. The number of IT representatives deriving advantages from its introduction enlarged in comparison with the previous year.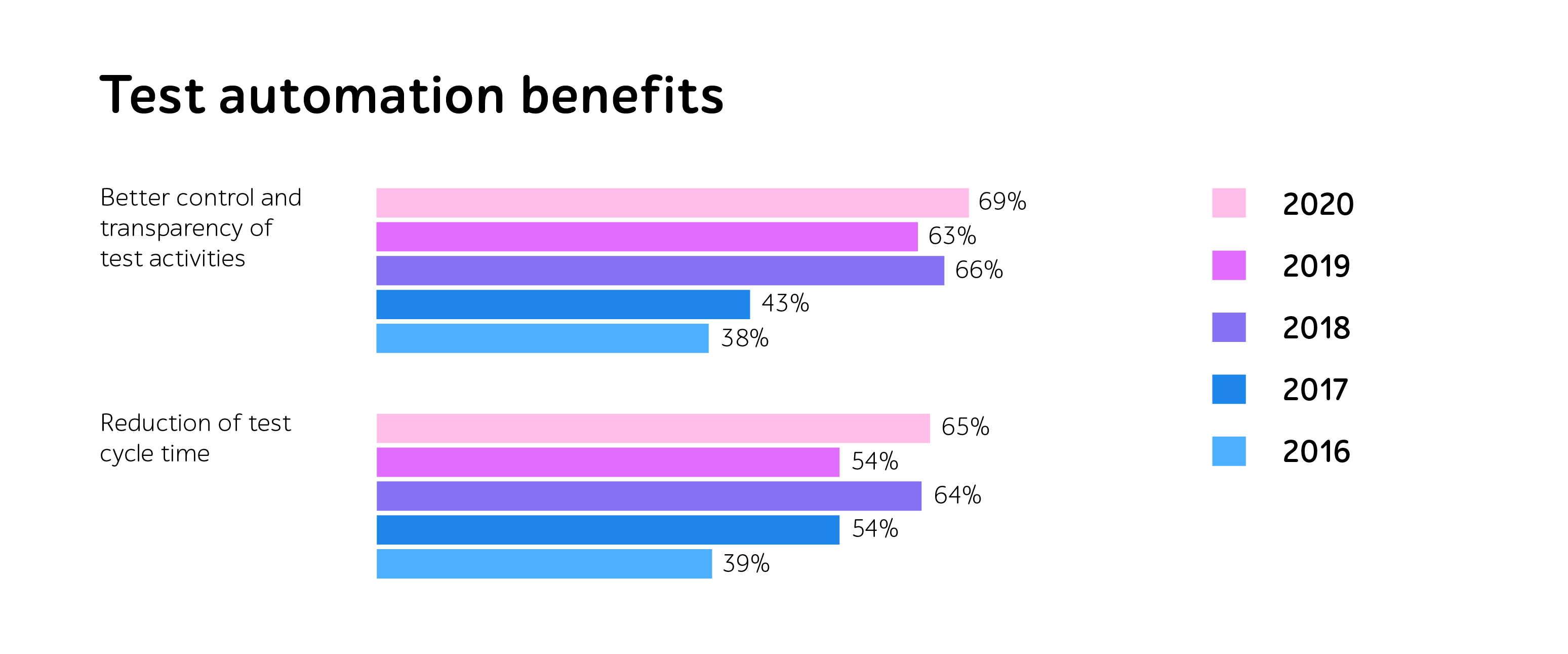 Source: World Quality Report 2020-2021
However, bumps in the road still occur.
Only 37% of companies admitted to obtain ROI in test automation tools. To ease maintenance of extensive automated suites and reach maximized scalability of tests, why not leverage scriptless automation toolkit?
Another continuous problem lies in the insufficient specialist's level of expertise, which directly impacts on planning long-term strategies and overall QA efficiency. This tricky aspect may be resolved by hiring proficient SDETs with good development and test automation architecture skills, knowledge of AI, RPA, API, and microservices.
Introducing such talents into the team, pinpointing the most suitable and intuitive toolkit, relying on AI and ML in tackling technical burdens organizations may achieve the desired level of test automation regardless of frequent changes in the applications.
QA trend #4 – Transform test data and environment management
Businesses still face challenges related to test data and environment management.
However, an encouraging tendency is evolving: 29% of WQR's respondents perform testing in on-premises environments, and this indicator is scaling down if compared with 2019. More organizations opt for cloud-enabled environments or containerized ones based on Docker or resembling technology. This shift is largely provoked by COVID-19 pandemic, as companies precipitate to attain digital transformation.
Still, to reap benefits from the cloud in 2021, it's vital for QA teams to establish their appropriate governance to dodge unpleasant incidents like higher overall cost due to their untimely release.
As for test data management, 79% of interviewed mentioned that they build test data manually for each run, which is probably required to meet the needs of continuous automation. To surmount this hurdle, companies harness TDM solutions masking production data. In contrast, they may be leveraged more efficiently like developing test data sets able to help design business rules.
QA trend #5 – Rethink your QA budget to act wisely
A global pandemic has put its imprint on QA budget allocation: widespread domestic policies require working from home, therefore triggering a sufficient cut on travel expenses connected with business trips. Even more savings may be achieved through the adoption of cloud-based infrastructure.
Meanwhile, what are the areas that worth sufficient liquidity injections? WQR states, that in the forthcoming year, organizations should focus on two prevailing dimensions:
Investing in innovations with ample potential like AI or test automation to attain cost savings in future
Paying well for replenishing teams with sought-after members like SDETs.
Summing it all up
For many businesses this year has become the time for rethinking QA strategy to perform more efficiently in 2021 and obtain a competitive advantage. For that, it's vital to concentrate on smart orchestration of DevOps reinforced by test automation and AI, improving test data and environment management, optimizing QA budget to meet the post-pandemic requirements.
Feel free to contact our experts to have a consultation regarding your software quality enhancement.