News
5 reasons to meet a1qa at Mobile World Congress in Barcelona
Are you heading to Barcelona on February 26? Then it's time to line up a number of meetings that might be useful for your business.
20 February 2018
Are you heading to Barcelona on February 26? Then it's time to line up a number of meetings that might be useful for your business, so that you're not lost in the sea of 108,000+ attendees the event will welcome this year.
The a1qa team will also take part in the gathering. Maxim Chernyak, the Head of Test Automation & Performance Lab, will lead a procession of the a1qa engineers.
They invite you for a coffee at the event or at some cozy café in Barcelona to catch up if you are engaged in mobile (or any other) software solution development and the issues of its quality are your headache.
5 reasons to meet QA experts at MWC 2018
If it sounds good but you need a nudge before scheduling a meeting with the a1qa experts, here are the five reasons to meet us at MWC 2018!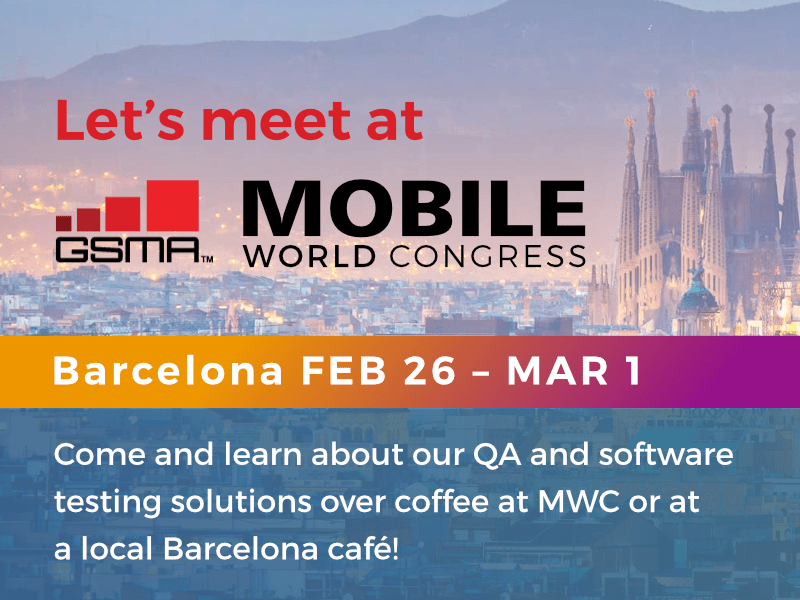 1. The quality of your existing software solution leaves much to be desired
The signs of poor quality may vary from negative users' feedback to constant software failures that prevent the process from running smoothly. We know that bad quality irritates and may result in significant losses, both financial and reputational.
The a1qa experts have already completed 1500+ projects assuring software quality and they will eagerly share their experience and discuss your testing needs.
2. You're planning to develop the mobile app and have no QA team to join the developers
One of the software development principles states Start Testing Early. The earlier bugs are identified the less efforts it will take to fix them.
When on board, the a1qa engineers ensure that testing becomes part of the development process and defects won't make it to the market.
3. You are about to automate the testing process but you are still in two minds
Test automation is undoubtedly the most required service our company provides. However, it requires close consideration to pay off in the end. At MWC, there will be the a1qa Head of Test Automation lab who knows everything about automating testing of web and mobile apps.
4. You have QA function in place, but it needs improving
Rely on a1qa experts to turn your QA processes into a significant business advantage. Our consultants possess the necessary mix of skills, experience and knowledge to identify the QA process bottlenecks and effectively eliminate them.
5. You'd rather have conversations to real pros than be lectured to
Very often it is a matter of meeting the right people to help you and having a real talk to people who can solve your problem.
However, let's face it. Your chance to meet that people going around the MWC and being lectured to is negligible.
So why not planning a couple of obligation-free conversations in advance with trusted pros (like a1qa) who have it all to solve the quality-related issues? Let your trip to Barcelona bring your business immediate ROI!
Fill in the form or reach us at start@a1qa.com. And see you soon in Barcelona.
¡Hasta pronto!