News
a1qa hits 15,000+ followers milestone on LinkedIn. Join us! 
Celebrating a1qa's achievement as we reach over 15,000 dedicated followers on LinkedIn!
26 October 2023
a1qa LinkedIn community has now grown to over 15,000 followers. This turning point signifies the trust and support that professionals from a variety of industries have placed in our commitment to raising independent QA above the level.
With immense gratitude, we extend our appreciation to each and every follower. It's the dedication and also encouragement of our partners and clients that inspire us daily to continue delivering the highest quality in content on what we do love the most — QA.
We also want to give special recognition to LinkedIn that provides us with a great platform for bringing together experts across the fields and helping us in the mission to demonstrate the importance of outsourced QA. We care about the reputation of the service we deliver and we believe in the strengths of the QA community we are building together with QA and software development believers.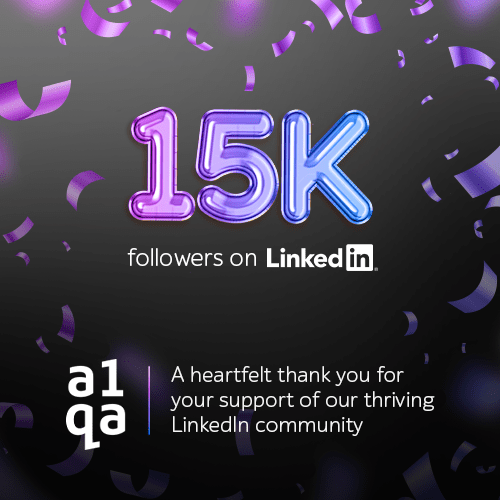 At a1qa, the LinkedIn page is not about numbers; it's about the value we contribute to companies aiming to shorten time to market, mitigate risks, decrease QA costs, and grow business, and we do want to assist them in gaining that.
We share content that highlights industry best practices, emerging QA trends, technologies, QA news, and our little and big happenings inside the company.
Join a1qa's thriving LinkedIn community and stay updated with us!