News
a1qa is participating in Acronis Global Cyber Summit 2020
Our team is taking part in a major global conference devoted to cybersecurity issues and ways to overcome them.
8 October 2020
This autumn is going to be full of spectacular events. We are pleased to attend Acronis Global Cyber Summit 2020, taking place on October 19-21. Gathering world-class professionals and those interested in data safety, the event regards topical data protection and cybersecurity challenges and ways how to address them leveraging innovative solutions.
There, seasoned industry peers from the world over will provide participants with actionable insights of new cybersecurity approaches in AI, cloud computing, blockchain, and many more.
a1qa's representatives are excited to take part and speaking at the summit. They will be ready to talk about topical QA-related issues, participate in the hands-on workshop "Anatomy of a Provisioning Automation Integration", and exchange their experience in superb QA support in enhancing security level.
Alex Pechinsky, QA consulting group expert and pre-sales manager, is delivering a pitch with a focus on the role of next-gen QA in developing game-changing software solutions. Some thoughts shared by Alex:
"Participation in Acronis Global Cyber Summit is a great opportunity for me to highlight the value of timely applied new-gen QA services — like IoT, AI, cloud, Agile testing, and more — for spotting software glitches early in the SDLC, stemming expensive post-hoc defect fixing, and boosting business agility."
Quality assurance support is a powerful way to enhance software security, being a necessity these days. Within a global digital transformation, more apps are becoming highly susceptible to various attacks, comprising sensitive users' information. Innovative QA solutions are up to address these challenges. Penetration testing assures bottleneck localization and its rectification while security testing on the early SDLC stages provides dodging cyber incidents and confidence in data privacy.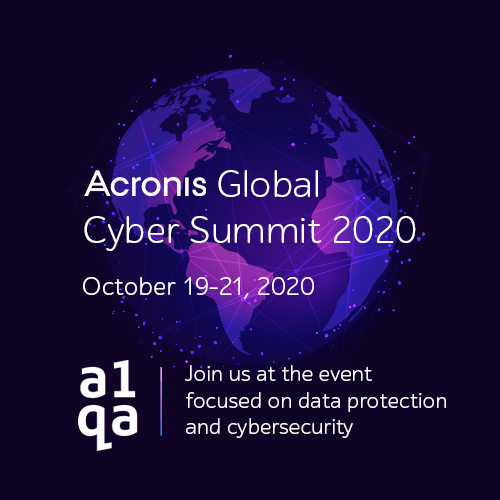 Enjoy watching a1qa's pitch, participating in workshops and discussions. In case you have any questions regarding software quality enhancement, drop us a line to have a consultation with a1qa's experts.