News
a1qa among Deloitte European Software Testing Awards finalists
One of the company's test automation projects has made it to the finals of the prestigious international competition.
22 December 2020
It's time to reap benefits. For the 4th time, the company has become the finalist of the European Software Testing Awards sponsored by Deloitte due to the all-embracing QA approach and value delivered to the client. The category of success is "Best Test Automation Project — Functional."
Competition details
To enter this list, each company submits an original software testing project, demonstrating the application of innovative solutions. The judges — professionals with years of expertise in QA — review cases anonymously to ensure objectivity while providing an unbiased assessment.
Project overview
The customer is an influential player in the telecom market that unites hundreds of operators into an extensive mobile ecosystem.
The tested product is a secure universal authentication platform allowing mobile operators to develop apps and log in via the solution while end users choose it to authenticate to websites and apps easily from multiple devices. The resource consists of several modules and a set of SDKs for integration into third-party apps.
Significant increase in platform users urged the customer to optimize testing processes and speed up time to market through test automation and best DevOps practices.
In terms of SDK testing, they developed automated tests emulating the SDK methods, created automated scripts to check software's API, split the SDKs into server-side SDKs and client-side libraries to enhance solution security, and provided all the required support to end users.
To boost testing efficiency and scale down the human error rate, the engineers eased the environment configuration process using Docker containers.
All in all, test automation introduction contributed to 20 times reduction of testing time and 8 times decrease in the launch time of a new app. Meanwhile, the solution became accessible 24/7/365 while its overall quality level has improved.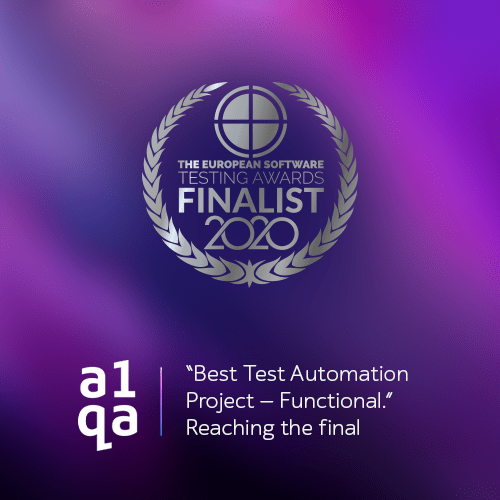 CMO at a1qa, Dmitry Tishchenko, shared his opinion:
"Automation combined with Agile and DevOps practices remains a silver bullet for companies striving to scale down testing time, improve ROI, and enhance software quality. We continuously evolve the approaches within the nurtured R&D center and leverage in-house frameworks reinforced by the best-working techniques.
Undoubtedly, we are glad that one of a1qa's test automation projects has been recognized as a finalist, and we'll keep expanding expertise to help our clients derive value for their businesses."
Are you looking for advice from an experienced QA vendor? Contact the a1qa experts.