News
a1qa at Seamless Middle East 2020: stay abreast of the latest trends
a1qa's experts visit a regional business conference dedicated to novel strategies and technologies in highly demanded sectors.
11 November 2020
a1qa is about to participate in one more spectacular autumn event!
On November 16-17, our team is going to Seamless Middle East 2020, a business conference encompassing two days of active knowledge transfer, productive network expansion, and encouraging discussions about future banking, fintech, payments, eCommerce, retail, and insurtech solutions.
This time the event will be held in a combined format: online and offline in Dubai. a1qa's representatives are looking forward to providing colleagues with next-gen QA solutions for software soundness elevation, as well as obtaining valuable insights on industries' development. Alongside groundbreaking financial technologies, numerous speakers will cover topics dedicated to digital transformation, AI, automation, and other innovations.
Considering the gravity of flawless products' functioning, the a1qa's team will exchange QA expertise on how to respond to digitally empowered customers' needs and release bug-free solutions with ease and confidence.
"Within the pervasive spread of digital transformation and the tendency to build and implement agile strategies, the eCommerce, retail, and BFSI industries leverage novel techniques for streamlined service delivery and customer satisfaction enhancement. And QA plays a pivotal role in attaining these objectives.
Therefore, we are delighted to participate in Seamless Middle East 2020 to debate, collaborate, seek working solutions, and unleash what the future holds for this hyper-competitive verticals," CMO at a1qa, Dmitry Tishchenko, remarked.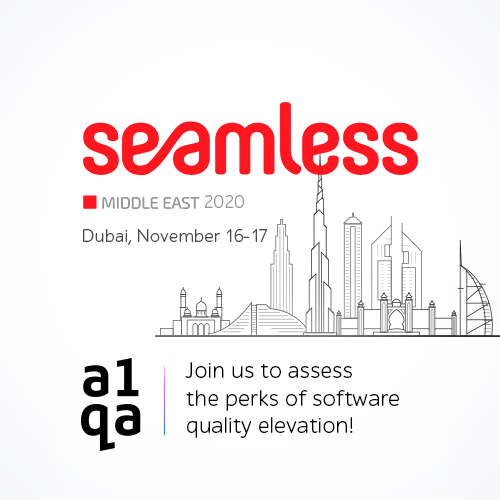 Let's meet at the conference to discuss the topical trends, issues, and ways of surmounting them through QA and software testing.
Feel free to schedule a talk with the a1qa's team. Please get hold of us, or drop a few lines at start@a1qa.com.