News
a1qa attended EuroCIS in Dusseldorf and MWC in Barcelona
a1qa experts discussed key trends at the world's most wide-ranging events in the retail and telecom spheres.
1 March 2019
The a1qa team just came back from two leading events of February: EuroCIS, the trade fair for retail technology organized in Dusseldorf February 19-21, and MWC, the mobile industry exhibition held in Barcelona February 25-28.
Leaders and influencers from all over the globe were transferring accumulated expertise with all their passion and enthusiasm. They provided information regarding the directions for development specifically geared to the above-mentioned industries.
Such events give a great chance to closely interact with our professional partners, guests, exhibitors, and speakers. We'd like to express our thanks for a pleasant atmosphere, breathtaking conversations, and fruitful meetings where the a1qa experts gave an in-depth look into QA processes needed for their retail or telecom software products.
It was a great experience for the a1qa team to discover the newest IT solutions and leading-edge innovations. 5G, IIoT, AIoT products, AI, omnichannel, IoT, Industry 4.0 – it's even not the full list of issues discussed.
Company's CMO Dmitry Tishchenko expresses his opinion on the congress and fair visits:
'With two successful events behind, a1qa has gained priceless experience and explored main trends that will shape retail and mobile worlds in 2019. Visiting the MWC and EuroCIS showed once again that investments and partnerships are required to ensure no one is left behind as we move into constantly changing technologies including Big Data, ERP, POS software/hardware robotics, AI.
We have always been open-minded and ready to convey industries leading practices and innovations. To ensure greater efficiency, enhance the quality of processes provided by a1qa, we are here to implement new approaches.'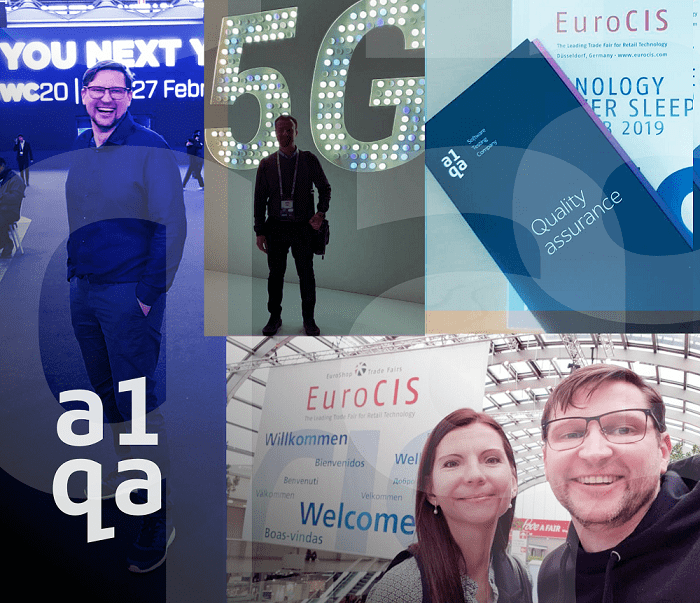 If you didn't have an opportunity to meet the a1qa specialists in Germany and Spain, contact our experts to get a detailed consultation concerning the quality of your software product.