News
a1qa's expert team is exhibiting at MWC Barcelona 2023!
The world's largest connectivity convention is back on the stage, and a1qa is among the exhibitors. Come and join us!
9 February 2023
We are glad to share with you some truly amazing news! During 27 February – 2 March, a1qa's team is exhibiting at MWC Barcelona 2023. We'll be sharing with attendees the importance of QA to grow businesses, and we'll be gaining insights into the future of velocity, 5G, 6G, and fintech.
MWC is the most influential connectivity event that brings together world-leading mobile operators, technology vendors, and developers, presenting innovative solutions.
With the advent of a large-scale digitalization era marked by the adoption of novel technologies, velocity becomes a crucial factor. It determines companies' success and their ability to keep up with the increasing telecom market competition.
Nowadays, to gain consumers' loyalty, generate steady income, and maintain a sound reputation, it isn't enough to implement innovations and ensure high software quality — everything should happen fast. Therefore, a comprehensive QA approach supplemented with test automation to accelerate testing cycles should come to the forefront to guarantee flawless IT product operation, improve CX, and strengthen the competitive advantage.
"Thorough and timely QA testing is one of the best ways to ensure a successful software launch giving your product the best chance to avoid embarrassing bugs. You don't want your staff working hard for months to get a product out the door only to find it damaged your reputation after the release," shared his thoughts Vitaly Prus, Head of testing department at a1qa.
At MWC Barcelona, the a1qa team will be excited to discuss QA for tech novelties and answer any of your questions related to software quality. Come to our booth 1С20 and talk with our experts — Kate Bazyleva, Head of pre-sales, Vitaly Prus, Head of testing department, Anna Malashenka, Senior QA consultant, Valena Volkava, Business events lead, and Nataliya Nesterovich, Sales executive.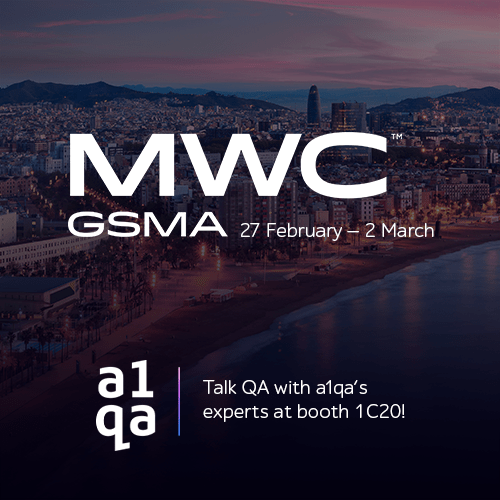 To schedule a talk in advance and meet with a1qa's experts at MWC Barcelona 2023, DM to Valena Volkava.