News
GoodFirms' experts included a1qa in the Top Software Testing Companies list
GoodFirms' experts acknowledged a1qa's professionalism in the QA area and added the company to the exclusive list featuring the best software testing vendors.
11 April 2023
a1qa is delighted to be among the best QA providers in the Top Software Testing Companies list, according to GoodFirms.
GoodFirms is a flagship review and rating platform, helping B2B companies identify the best software products, the finest vendors across the globe, and high-quality services, including eCommerce and blockchain technology, web and mobile app development, AI, big data, web design.
To get ahead of the curve, grow business, and reduce operational expenditure, we witness many organizations focusing on quality assurance. GoodFirms' list of Top Software Testing Companies is compiled to help companies (that face challenges with finding the right talents for QA goals and delivering quality at speed) choose reliable software testing partners.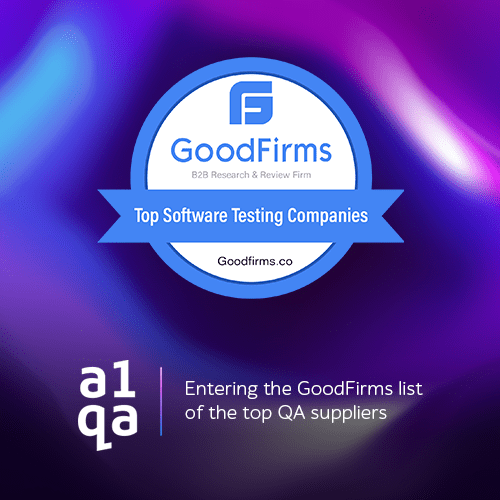 a1qa hits the Top Software Testing Companies rating each year.
Feel free to get hold of a1qa's experts to receive professional QA support and boost your software quality.