News
a1qa is making its way to GITEX Global 2021
a1qa is joining an international exhibition to talk with IT reps about challenges while introducing innovation and the ways to overcome them.
11 October 2021
Glad to share some good news with you!
On October 17–21, a1qa is attending GITEX Global 2021 — the biggest tech event, engrossing IT reps from Cisco, Kaspersky, Amazon, and other enterprises. a1qa is going to discuss QA-related challenges that companies encounter when ensuring the high quality of the software.
During the IT convention, participants are presenting the latest IT products connected with 5G, AI, big data as well as talking about relevant issues within today's IT market. That's why, the a1qa team is joining the event — to provide possible QA solutions and help attendees address the problems to win the race with a high-quality IT product.
Why does QA lie in the core of software development? How to build a strong QA strategy to improve software quality while accelerating time to market? What QA practices do help overcome the QA-related challenges?
Feel free to join us at the booth CC1-M17 to talk about these and many other topics with a1qa's experts.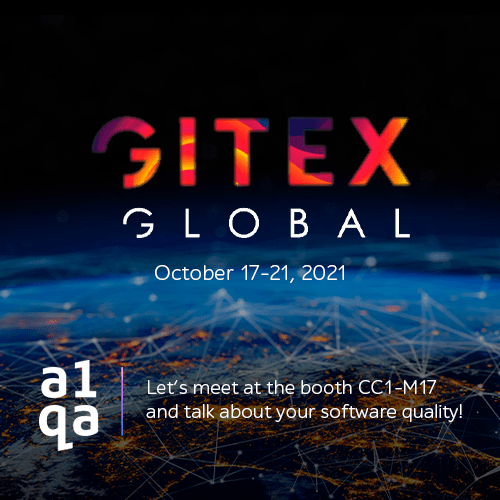 The a1qa team is staying in Dubai till 22 October, so, in case you don't visit the event, we would be glad to grab a coffee together in the town.
To book a talk in advance, get hold of the a1qa specialists.