News
Take part in a1qa's Dubai roundtable dedicated to test automation!
The a1qa professionals are running a live roundtable to speak about test automation, its 2023 trends, and how to benefit from them in the future.
10 October 2022
It's a1qa's team on the line. Are you ready for some amazing news? On 12 October, we are conducting an offline roundtable "Test automation: how to utilise with max efficiency?" in Dubai at Sheikh Rashid Tower.
The a1qa event is a great opportunity for the C-level to get actionable insights into automated testing, talk any QA-related issues, and build new connections via networking with middle and top management at a1qa, whose total experience in the industry reaches 30+ years.
The agenda includes 3 topics:
Test automation trends for 2023 and beyond.
Budget saving strategies.
Best practices for introducing test automation.
Who's there from the a1qa team?
The workshop host is Dima Tish, VP of global business development, who previously headed the test automation department and now, is responsible for increasing global revenue.
The co-host is Saleem Almarzooqi, Managing director at MEA region, former senior VP in charge of digital transformation and technology innovation in Etisalat. Working at the a1qa UAE office, he helps clients ensure resilience to cyberattacks, infuse Agile workflows, and reach set business goals.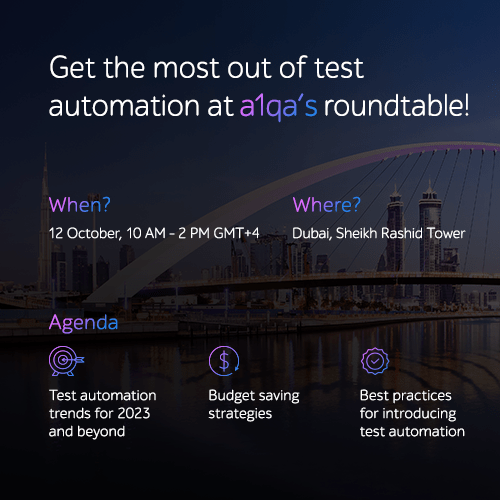 We are heartily inviting you to register for the event and obtain professional assistance in troubleshooting QA pain points!
Feel free to contact a1qa's experts if you want the a1qa team to organize exclusive workshops for your company.