News
a1qa included in 2023 Global Outsourcing 100® list by IAOP
The International Association of Outsourcing Professionals has released the Global Outsourcing 100® list, and a1qa has made the cut.
21 April 2023
The International Association of Outsourcing Professionals (IAOP) has announced the annual Global Outsourcing 100® (GO100) listing for 2023. The GO100 is an annual list compiled by IAOP featuring the world's top outsourcing providers and advisors across different industries. a1qa is proud to be listed among them.

a1qa scored well in all four major IAOP's criteria:
1. Customer References — highlighting the benefits delivered to clients during comprehensive QA support.
2. Programs for Innovation — demonstrating cutting-edge software testing services that helped businesses to achieve their desired objectives.
3. Corporate Social Responsibility — providing support for clients, employees, environment, cybersecurity, among other important areas.
4. Awards & Certifications — proving industry excellence by gaining international recognition in various award programs.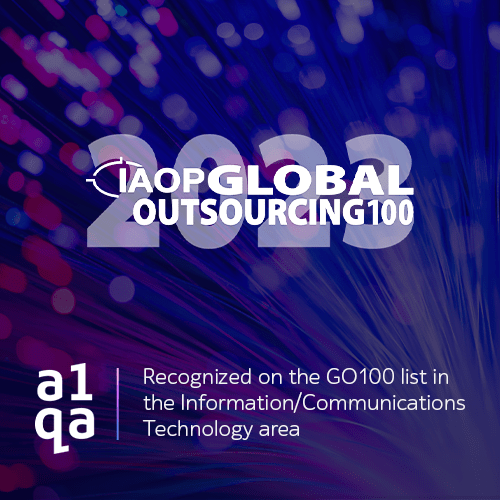 Contact a1qa's team for assistance in enhancing your app quality. Outsourcing your QA needs will provide you with scalable resources possessing the required skills.