News
Final'22 a1qa online roundtable: how to make your QA dream team come true?
Welcome the a1qa experts at the last in 2022 online discussion – building a QA team of the dreams.
1 December 2022
In the midst of preparing for Christmas, we are excited to announce that on December 8 at 5 PM GMT+3 a1qa's team is having an online roundtable, "QA dream team: how to turn a dream into a reality?" Join us!
Are you experiencing the poor performance of your QA team and searching for actionable insights into boosting its productivity? Or do you already have a QA dream team and want to share hands-on experience in composing it?
If there's one "yes," our hosts — Kate Bazyleva, Head of pre-sales, and Darya Savich, QA consultant, — are waiting for your coming to the roundtable to discuss the following topics:
1. An ideal profile of a good QA specialist.
Which hard and soft skills should a well-performing QA specialist have? Is it necessary to consider the personal qualities of other team members, and why?
2. Peak capacity: how to unlock full potential?
What affects the peak capacity, and what does it mean? How does a work-life balance help improve specialists' productivity? Is it possible to unleash experts' potential in case they work in a multinational team or in various time zones?
3. Long-lasting synergy: team retention practices.
Let's discuss how to win the long run with passionate employees and what practices assist in getting the members fully committed to the project. Which effective ways can you mark to extend specialists' tenure within the company?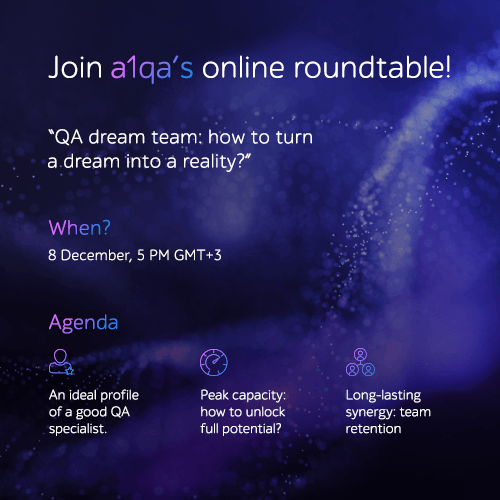 Let's find out the answers to all these questions during our engaging discussion! Feel free to register for it and have a great time.