News
Discover the ways to boost quality of complex software during a1qa's roundtable
We're briskly approaching the next a1qa roundtable for IT executives. How about joining it and exploring ways to test complex IT products effectively?
18 April 2023
The online discussion "QA for complex software: tips for enhancing the quality" is taking place on the 27th of April at 5 PM CEST.
When developing sophisticated IT solutions, we see businesses often running into challenges. The question arises, how to address them with the help of QA and reach the desired results faster?
That's what participants will be discussing during a1qa's roundtable, as well as exchange QA practices, allowing them to boost the quality of a complex IT product.
This time, our agenda involves 3 high-priority points:
Point 1. Software complexity: how might it be defined?
The attendees will share their perception of this concept.
Point 2. Testing complex software: how to start?
IT executives will speak about the most efficient ways to overcome challenges they usually face when testing sophisticated IT solutions.
Point 3. From a concept to action: discussing details of a QA process.
The panelists will exchange real-life cases and outcomes during the testing stages. Were the end users satisfied with the application quality? If not, what QA practices can assist in improving it?
The a1qa discussion is hosted by Paul Polyarush, Senior QA consultant at a1qa, and Darya Savich, QA consultant at a1qa, who will provide examples on the topic and share their multi-year QA experience.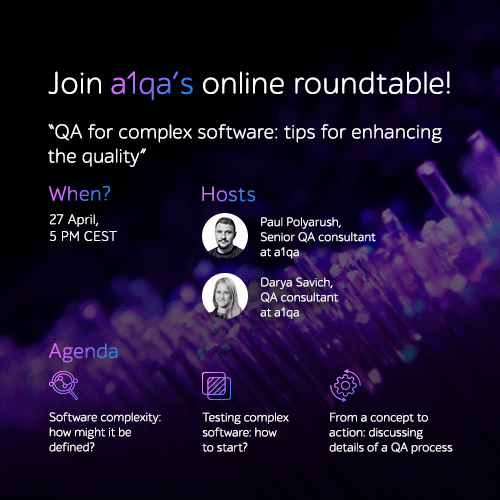 Register for the roundtable and be ready to take the floor.