News
Forrester put a1qa amid the reputable continuous automation and testing services vendors
We are happy to share another achievement! Global experts have included the company in the list of trusted providers that assist organizations in delivering high-quality solutions faster.
18 March 2021
Forrester included a1qa in their report "Now Tech: Continuous Automation And Testing (CAT) Services Providers, Q1 2021." This ranking is aimed to help C-suite find associates, accelerate software rollout and stay competitive in the market through deploying continuous testing services and smoothly embedding them into CI/CD pipelines.
For years, test automation has been among the most effective technological trends applied to briskly iron out software glitches and increase ROI. Despite that, companies still face diverse challenges related to introducing it correctly ― from lacking the proper strategy and skilled specialists to inability to maintain automated tests.
With that in mind, what should businesses undertake to implement it in a hassle-free manner? Consider the choice of a QA vendor carefully. When the approach is well thought out and everything is handled right, transparency of QA processes multiplies, continuous inspection of code quality is achieved, thus improving overall test automation value.
Apart from helping clients achieve these mission-critical goals, a1qa consistently improves the quality of its continuous automation and testing (CAT) services. So, the developed Aquality Automation framework eases tests creation and support as well as leverages AI elements to determine the causes of failed tests.
"Entering the Forrester's report inspires us to keep on delivering 'quality at speed' for our clients. Relying on such QA support including shifting testing left, companies enhance their CX, cut development costs, and attain business resilience amid the uncertainty," ― Dima Tish, Head of global business development at a1qa, added.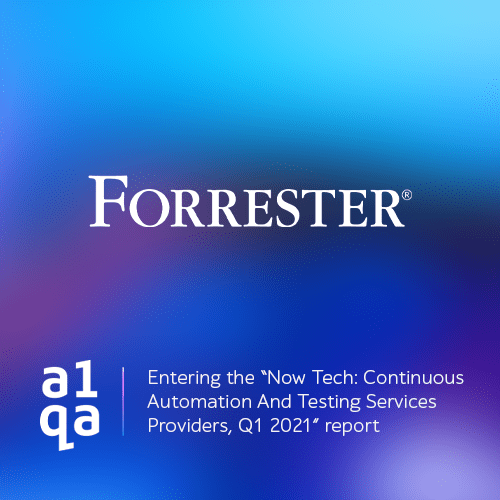 This year, the company has already been acknowledged as a finalist of the 2021 North American Software Testing Awards.
In case you need to introduce automation but don't know where to start, feel free to contact the a1qa's team to eliminate any process risks.