News
Clutch acknowledged a1qa in two exclusive lists
Clutch included a1qa in two rankings — the Top 1000 Service Providers for 2021 and the Leaders in the Development and IT Services Spaces 2021.
28 December 2021
It's almost become a time-honored tradition for us at a1qa — to get recognition from the front-runner B2B ratings and reviews platform. This year, a1qa hit two featured lists: Clutch 1000 and Leaders in the Development and IT Services Spaces 2021.
By offering unbiased reviews on IT vendors, Clutch helps businesses find reliable suppliers to cooperate with and get maximum value from the services provided.
The Clutch 1000 list implies four major criteria: sound brand image, ample company's track record, an acceptable number and quality of verified clients' reviews, and partnership with leading IT players.
Being highly flexible regarding uncertainty and the ever-evolving IT market, adhering to the topical IT trends, and fully meeting clients' needs — all of these helped a1qa receive acknowledgement as one of the top 1000 global IT services providers.
International experts also included a1qa into the list of the Leaders in the Development and IT Services Spaces 2021 while recognizing the company in two categories: Software Testing and Cybersecurity Companies.
For more than 18 years, a1qa's clients have been delighting end users with top-tier software owing to holistic QA support at all SDLC stages. By constantly widening and improving the range of QA services at the proprietary CoEs and R&Ds, a1qa responds to all customers' requests, including minimizing risks of cyber incidents. To accomplish that, a1qa's engineers implement vulnerability assessment, penetration testing, social engineering, and other cybersecurity testing best practices.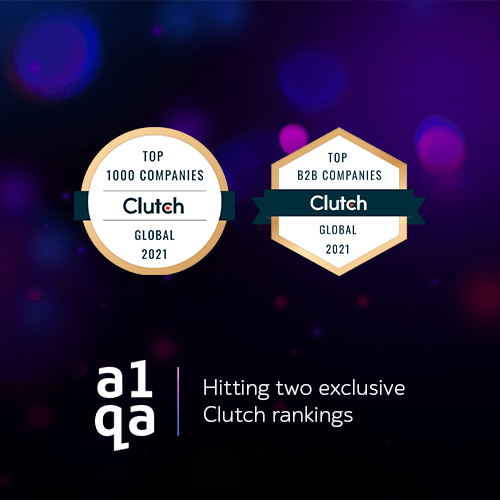 Feel free to reach out to a1qa's specialists to get a personal QA consultation on enhancing quality of your IT solution.