News
Dig deeper into test automation during a1qa's online roundtable
Are you ready to brainstorm with other IT executives on test automation and the ways to derive more benefits from it? Join a1qa's virtual discussion!
28 July 2023
It's time to unveil the details of the next a1qa roundtable for IT executives. a1qa's experts — Paul Polyarush, Senior QA consultant and Aleksey Ermolinsky, Solution adviser, — will conduct the online discussion "A closer look at the field of automated testing" on the 17th of August at 9 AM PDT/6 PM CEST.

Companies may derive even more benefits from test automation, especially when it's supported by AI or behavior-driven development. Thus, they attain greater efficiency and free up resources to focus on strategic business initiatives.
During the roundtable, the attendees will discuss the following topics:
Automated testing as a tool to optimize costs and efforts.
Exploring the key aspects of behavior-driven development.
The future of QA: can AI be trusted?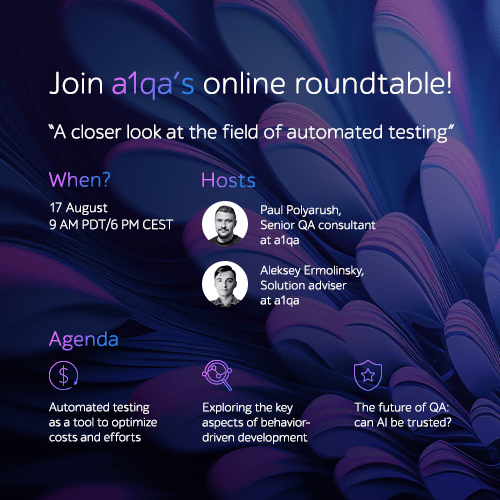 Sign up for the upcoming roundtable and be ready to voice your ideas on the matter!