News
Enhancing quality of network solutions through NFV & SDN testing
a1qa's NFV & SDN testing services are assumed to help companies get confident in their network software soundness.
5 October 2020
With an across-the-board network transformation, a1qa helps companies fit into the rapidly evolving IT ecosystem through NFV & SDN testing packages. They are designed to ensure the delivery of high-quality network solutions and enhance CX while nurturing innovative network technologies. By harnessing them, one can provide faultless operation, paving the way for business and operational values.
To enable a robust transition to virtual network technologies and elevate software soundness, companies can opt for a1qa tailored QA packages:
NFV testing package – to supervise flawless virtualization using functional, acceptance, compatibility testing, and more.
SDN testing package – to provide optimized network modification through test automation, interoperability, security, and other testing types.
NFV & SDN testing services are created for businesses aiming to foster next-gen network technologies, yield safe and high-performing software virtualization, and develop IT solutions in compliance with the standards.
What are the benefits companies reap by leveraging the packages? In addition to high quality, one gets reduced QA costs and streamlined QA workflow due to virtualization best practices. By accelerating environment setup and implementing test automation, organizations acquire faster time-to-benefits.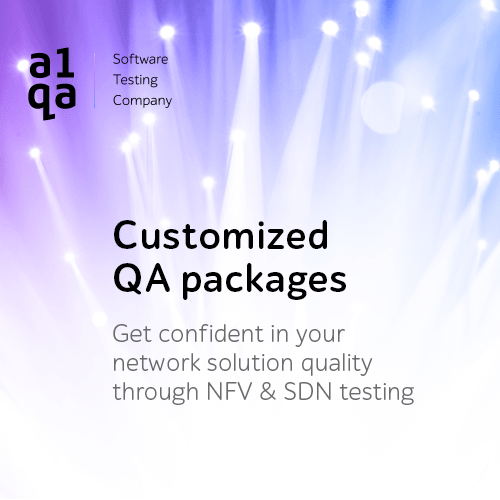 Facing challenges with ensuring the quality of network technologies? Feel free to reach out to the a1qa professionals to get answers on your QA-related issues.