News
North American Software Testing Awards 2022: reaching the finals
a1qa has become the finalist at the North American Software Testing Awards 2022.
15 December 2022
The judges of the North American Software Testing Awards 2022 placed a1qa among the finalists in the Best Overall Testing Project – Finance category.
The award program celebrates significant achievements of organizations across various directions of QA and software testing.
a1qa chose a success story demonstrating comprehensive QA assistance for the US-based vendor of online technology-based investment and market research tools for investors and traders.
Due to the delivered QA activities, the customer provided end users with sound, high-performance B2B/B2C software for trading assets and investing, accelerated the feature life cycle (from idea to release) to two weeks, reduced time to market, and prevented post-release costly bug fixing.
To ensure the smooth functioning of its sophisticated financial systems, accelerate the IT product launch, and minimize business risks, a1qa's team:
Built Agile-based processes from the ground up
Introduced automated testing
Verified big data to enable its validity, reliability, precision, and integrity
Carried out the mobile app, integration, and functional tests.
To handle the increasing workload easily, the a1qa team was gradually scaled up – with a tailored approach to training, helping project newcomers quickly grasp complex business logic.
The judging panel of the North American Software Testing Awards acknowledged that and enrolled a1qa in the list of category finalists.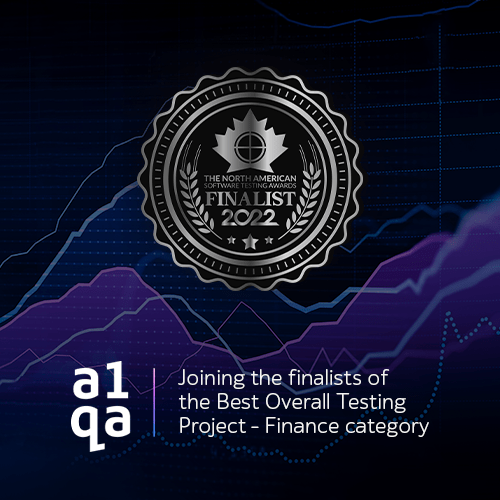 In case you'd like to refine your banking solution quality, contact a1qa's experts.