News
MWC Barcelona 2021 – done! Sharing impressions.
What an exciting summer! a1qa unleashes emotions after a remarkable IT event devoted to telecom innovations.
9 July 2021
While attending the vibrant MWC in Barcelona, the a1qa team obtained some insights into the impact telecom trends make on today's connected world, along with discussions about software quality and its value for the business.
We were delighted to attend a long-awaited offline event and get inspired by the speakers' presentations on 5G, IoT, AI, digital transformation, helping create a winning strategy.
It was also a pleasure for us to interact in person with colleagues, partners, and IT reps from a myriad of companies delivering game-changing products in the fiercely competitive market.
At our booth, we shared some of the best QA strategies in delivering top-tier IT products and were glad to answer the questions about software testing and its importance in accelerating time to market and driving profitability.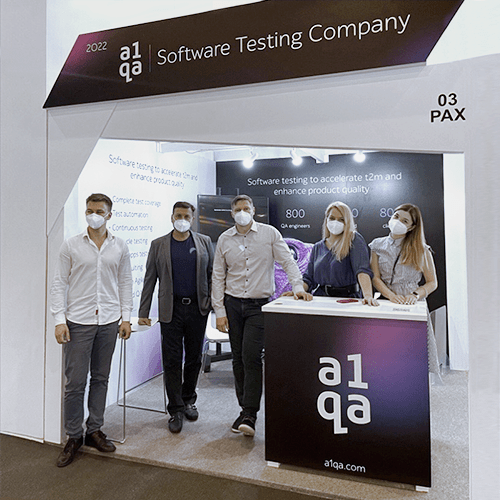 While helping the visitors deeper understand the role of software quality assurance in business strategy, we also discussed how to master the development lifecycle by including QA in the early stages.
We are looking forward to more offline events this year and hope to see you there and interact.
Wishing to know more about the benefits of QA for the business and how to grow explosively? Contact us to obtain professional QA support.