News
a1qa's next-gen QA automation team shortlisted at the GSA UK
The GSA UK Awards shortlisted a1qa's next-gen QA automation team in the Best nearshore team category.
22 October 2021
Again, with good news! a1qa was shortlisted by the Global Sourcing Association (the GSA) UK in the Best nearshore team category.
The GSA promotes the dissemination of best practice methodologies and accreditation programs across the globe, including the UK, France, Germany, etc. The GSA holds multiple events, helping companies to evolve and cultivate process maturity, improve their reputation, and hone professional skills.

a1qa's next-gen QA automation team was nominated in the Best nearshore team category and hit the shortlist due to successfully accomplished 300+ test automation projects. High flexibility, prompt response to challenges, adoption of innovative technologies, and in-demand Agile and DevOps methodologies have assisted the team in reaching the desired results.
Comprising skilled QA coordinators, managers, consultants, and QA automation engineers, the next-gen team provides customers with multiple business and operational benefits. Among them are:
Accelerated time to market
Mitigated QA risks
Enhanced software quality
Increased ROI
Reduced software TCO
and some more.
The QA team members sharpen their professional skills in the proprietary QA Academy while accumulating domain-specific expertise and best practices within 10+ CoEs and R&D labs to keep up with IT trends.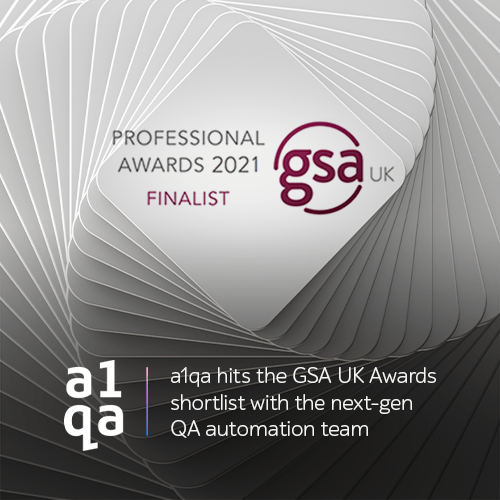 Congratulations to the a1qa team, and good luck to all the shortlisted participants!
To get a professional consultation on test automation, please, contact a1qa's specialists.