News
North American Software Testing Awards: a1qa amid finalists!
a1qa's project dedicated to assuring quality of eCommerce solutions was recognized as a finalist of a prestigious competition.
4 February 2021
An excellent start of the year! For the second time, The North American Software Testing Awards finalists have been announced. And the first try already brought in success for a1qa, whose diligence and contribution to attaining the client's business goals were acknowledged in the category "Best Overall Testing Project — Retail."
Competition details
Aiming to spot the best projects, the judging panel relies upon an assessment of the value delivered to the client using turnkey QA solutions rather than considers company size, market share, or budget. An unbiased evaluation is achieved by the analysis of anonymous applications.
Project overview
The customer is a large US home appliances manufacturer leveraging a range of B2B and B2C software solutions.
Striving to reduce hosting costs and improve organizational performance, the client initiated migration to SAP Hybris Commerce Platform.
To enable its high quality, the dedicated team plunged into the technical aspects of the products and developed a comprehensive quality assurance strategy involving:
Functional testing & UAT to ensure unhindered solutions' operation and compliance with the set requirements.
Test automation to fast-track QA, scale down operational costs, and release time that could be spent on software advancement.
Performance testing to provide customers with successful eCommerce experience, including Black Friday sales.
Integration testing to ensure quality functioning of payment platforms and the system designed for taxes' distribution within the client's solutions.
In the endeavor to bring even more value, the QA engineers committed to processes' enhancement and developed a plan to support numerous releases and introduced smart team scalability whenever such a need occurred.
Managing director at a1qa, North America, Nadya Knysh shared her opinion:
"At a1qa, we help our clients derive business and operational values while assuring impeccable software operation.
Our QA approach formed the case with this retail project. In two months, test automation resulted in significantly speeding up QA activities and saving 50 business days of the manual QA team. Performance testing ensured high solutions' throughput and unhindered operation during Black Friday.
We would like to thank judges for commending a1qa for our contribution to developing the client's business. We continue deepening our expertise in the retail industry and apply next-gen solutions to support our customers."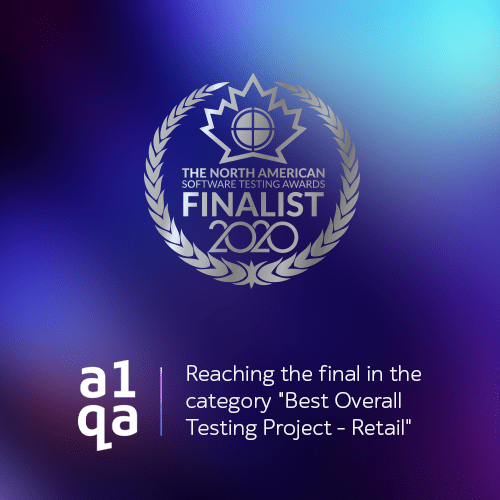 If you want to ensure high software quality prior to a major release, feel free to contact our team.