News
Plan the meeting with the a1qa experts in Colorado!
Book a free consultation with the independent software testing experts to improve the quality of your solutions.
19 April 2019
We are glad to announce, that the a1qa regional expert and the qualified team will conduct the series of meetings around Colorado. Throughout the week starting from April 29, the a1qa professionals will gather in Denver to provide you with tailor-made solutions to all your QA-related endeavors.
Due to the rapid development of the IT sphere today, multiple verticals like telco, eHealth, BFSI, e-commerce, etc. undergo considerable changes connected with the global implementation of industry best practices, such as AI, ML, cryptocurrencies, AR/VR, and so on.
Taking part in this speedy and highly challenging contest, it's vital not to overlook the core mission – ensuring end-user satisfaction by creating secure and robust ecosystems and solutions.
Accordingly, a1qa focuses on designing and orchestrating seamless QA processes intended to help businesses the world over foster innovations with no risks of letting users down.
a1qa helps seize each and every opportunity to enhance the quality of the software delivered. Company's regional representative along the seasoned team of experts will be glad to meet you in person to answer all your questions and develop a case-by-case testing approach necessary to meet the high standards set up by the spirit of time.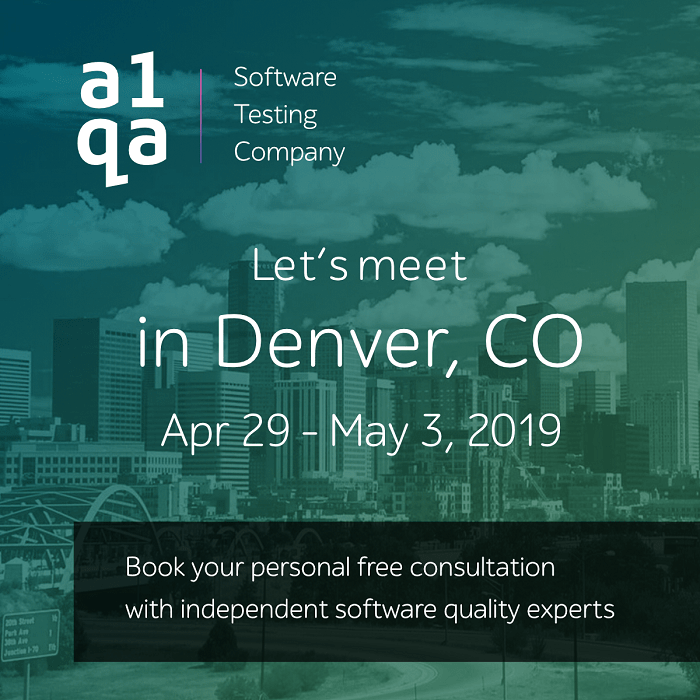 To schedule the meeting with our experts, fill in the form or drop us a few lines at start@a1qa.com. See you in Denver!