News
Globee® Awards: a1qa hit the top winners' list
Globee® Awards experts have recognized a1qa as a GOLD GLOBEE® WINNER for helping a telecom front-runner achieve desired business outcomes.
23 July 2021
Good news on the agenda! a1qa has become a GOLD WINNER in the 16th Annual 2021 IT World Awards®. By demonstrating our success story of building a test automation solution for a telecom leader, a1qa has received an award in the IT Products & Services for Telecommunications category.
The experts of Globee® Business Awards recognize reputable IT companies across multiple industries based on their achievements and advanced IT services.

There, a1qa presented a project of supporting a telecommunications company in delivering high-quality software serving hundreds of mobile operators. By applying a tailored test automation approach, the client accelerated t2m, sped up the deployment of a new environment, and enhanced the product's health.
"While next generation of network connectivity is spreading, telco companies need to maintain the high pace of delivering IT products. But how to ensure their customers are satisfied and their experience with the solution is flawless? I believe this is where caring about quality comes into play to enhance CX and leave no technical debt behind," – Dima Tish, Head of global business development at a1qa, expressed his thoughts.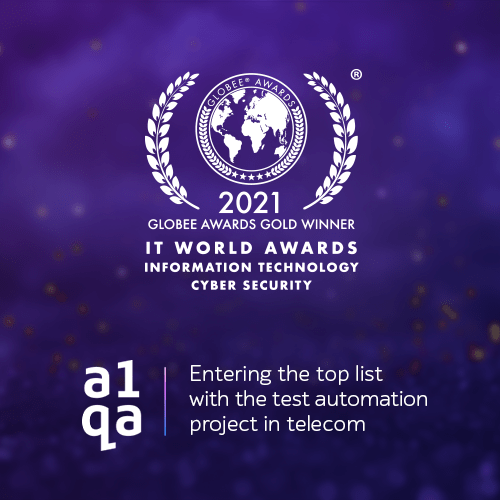 In case you need professional assistance in enhancing software quality of your telecom solution, feel free to get hold of the a1qa team.