News
Sharing reflections on participating in three spectacular tech events
GITEX Global 2021, MWC Los Angeles 2021, Web Summit 2021 — all these IT conventions were a1qa's destinations for this autumn. Let's discover the impressions.
17 November 2021
Great October and November! a1qa attended three remarkable IT conferences in offline mode and shared QA expertise as well as participated in workshops and discussions.
We simply cannot forget GITEX Global 2021, a tech exhibition held in Dubai, providing us with actionable insights into IoT, AI, big data, cybersecurity as well as the opportunity to discuss QA with IT peers from forward-looking companies.
Throughout the week, we were participating in workshops and talking to attendees on QA-related issues, such as designing a well-tuned QA strategy and improving the quality of cutting-edge IT solutions.
What's more? We were delighted to meet with our partners and friends in Dubai downtown to discuss the challenges they face while developing apps and the ways on how to tweak software to perfection.
At the end of October, we attended one more flagship IT convention — MWC Los Angeles 2021 dedicated to trends in network connectivity and mobile innovation. During a three-day IT event, we delved deep into the latest mobile technologies from the worldwide speakers who were talking on 5G era, IoT connectivity, telco cloud, etc.
In November, we continued sharing our subject-matter QA expertise at the Web Summit 2021, tech event held in Lisbon and brought together leading speakers and biggest companies. Thus, we expanded our network and discussed SQA issues and the role of QA for digital novelties with participants of the conference.
We are awaiting more offline events to disseminate professional knowledge and meet you again!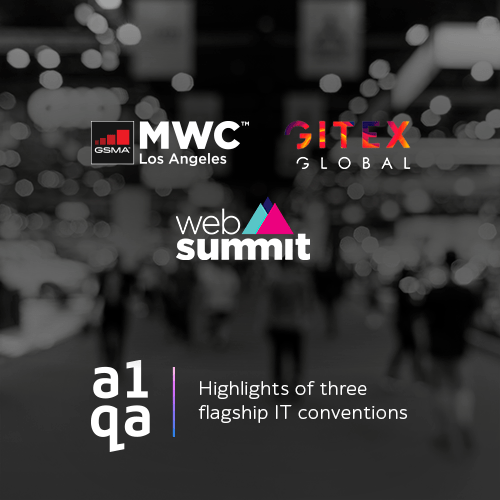 If you'd like to boost your software quality, feel free to reach out to a1qa's experts to discuss QA-related issues and address them with confidence.