News
Sharing vivid impressions from visiting Collision from Home
Even the difficult global context does not stop international experts from learning and gaining new tech knowledge. Our team also took part in a major international online conference where we discussed the key trends and conducted meetings on QA-related topics.
30 June 2020
The a1qa experts took part in a major tech event, where they shared multi-year quality assurance expertise and got fully inspired by presentations of the IT experts. We are happy to tell you about our impressions of participating.
The range of topics considered at the conf was traditionally wide. We discussed the key trends of the IT market in recent years (ML, robotics, relevant SaaS solutions, and more) and talked about the importance of caring about software quality.
The atmosphere of this event was charged with enthusiasm. Dozens of energetic specialists presented their startups in various industries. To support fresh initiatives, a1qa has developed a special QA package for startups and companies creating novel software products.
The a1qa team easily adapted to the online meeting format a while ago, which appeared to be an efficient way to talk with business representatives throughout the ever-changing market conditions. We already have more than 1-year experience in successfully conducting QA workshops for companies around the world.
During Collision from Home, we have efficiently held meetings helping IT specialists realize the importance of enhancing software quality to provide better end-user experience in the pandemic and post-pandemic era. Also, we gladly exchanged opinions with long-standing partners and made new friends.
CMO at a1qa, Dmitry Tishchenko, expressed his opinion:
"Collision was a significant event where we met with industry colleagues, shared our experience, supported innovative projects and startups.
We say thanks to all participants and organizers for making this exhibition dynamic and valuable. The a1qa team will happily return to Collision next year."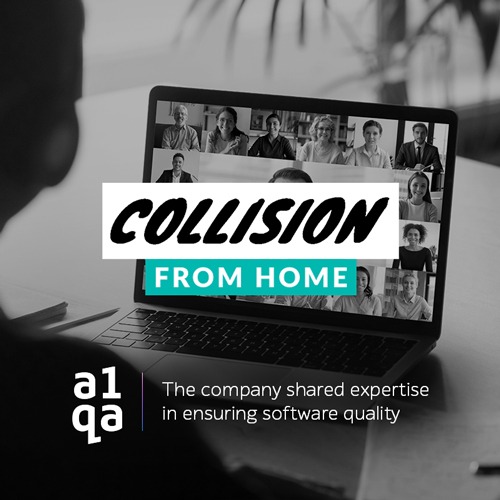 Didn't you have time to discuss what hinders the quality of your software product with the QA experts? Contact us to get answers to daunting QA-related questions.