News
Talking about mobile app testing: a1qa at the SD Times podcast "What the Dev?"
a1qa gladly shares the impressions from the "What the Dev?" podcast hosted by global digital magazine SD Times. Nadya Knysh, the Managing director at a1qa, North America, shared insights into testing mobile applications and the ways to overcome challenges on this way.
20 September 2021
Great news! Nadya Knysh, the Managing director at a1qa, North America, has participated in the "What the Dev?" podcast (organized by the SD Times digital magazine editorial team) and talked about mobile app testing challenges.
Keeping in mind the enormous number of devices, OS changes, UI, battery life, internationalization (I18n), and other issues, mobile app testing is becoming a more crucial topic to discuss due to being more sophisticated than it was a year ago. There is no surprise that it means "quality first" and businesses are searching on how to efficiently apply novel QA approaches and enhance the overall testing process.
Throughout the podcast, Nadya provided VPs, IT managers, developers, and QA specialists with lots of tips on how to ease the tricky road to high software quality:
Core aspects to focus on while developing and testing mobile apps
First steps to make on the way to creating mobile solutions
Vital tools and techniques to apply for effective testing
Key advantages of a mobile app over a mobile web app
Top trends in mobile app testing.
Moreover, Nadya was speaking about applying Agile methodologies, test automation, AI to build a strong QA strategy, helping accelerate time to market, increase income and brand awareness, assist in attracting more customers, winning their trust.
We were so excited to participate in the podcast and share our knowledge on the topic. Feel free to listen to the podcast and get the great insights on mobile app testing.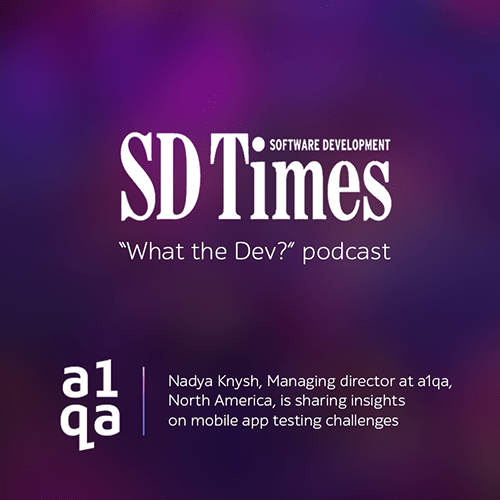 The a1qa team would be delighted to answer your questions on improving the quality of mobile apps and provide professional QA assistance on this journey.