News
Talking with the Director of QA during the "Future strategies in engineering quality" podcast
We'd like to present you a podcast with James Vignoles, Director of QA at Sophos, where he shares how an optimized testing infrastructure should look like, whether QA needs Agile, and how to properly incorporate QA into digital transformation.
8 December 2022
James Vignoles, Director of QA at Sophos, took part in the "Future strategies in engineering quality" podcast conducted jointly with The Business Transformation Network – a global platform that allows disseminating valuable knowledge on business and technology via articles, videos, and events.
For organizations to grow, it's crucial to know how QA and software testing may help them. Therefore, we touched on 4 major questions with James:
1. Embedding QA throughout the digital transformation.
According to James, there are common areas where QA can add value.
First, quality is the responsibility of the team, a QA professional needs to be a subject-matter expert who sets the requirements for the quality process, for the deliverables, and for the gates ― to know that you've achieved what the project was meant to.
Second, processes are often repeatable. So, smart automation is of help. However, it's vital to make sure that you automate the right things, define your time limits, and make automation deliverable.
Also, critical thinking does matter. It's important to ask "what" and "why" rather than accept the first answer.
In general, James thinks that success is different for every project. That's why QA experts need to be involved to define what success looks like, what is meant by quality.
2. Does Agile need QA, or does QA need Agile to be successful?
James thinks that QA in Agile is just a role undertaken by members of the team. If a company doesn't have QA experts, it needs to provide the relevant training. Agile needs QA, but it's just a role that could be assumed by anybody within the crew. And a lot depends on the project type ― whether an organization needs to educate, for instance, the developers or bring in seasoned QA professionals.
Here's how James explains why Agile needs QA: "If you are going to be successful, QA has to be early, and it has to be continuous, it has to be involved in the decisions driven by risk and data. It has to have clear success criteria. All of these are required and that are provided by Agile."
3. Streamlining testing infrastructure.
James believes that it's hardly possible to get the perfect, frictionless ability, but companies want to reduce the effort involved in expansion or improvements. If it's not easy to update it, use it, or make it a part of a home pipeline, people will have problems with utilizing it.
Three vital areas should be considered. The first one is the testing side. It should support testing at diverse levels ― be it a test for a single change or multiple changes. The second is compliance, for instance, with ISO. It's important to support it as if something isn't met, the system must stop. The last one is its life cycle. The companies need a roadmap of changes, features, SLAs, etc., and consider it as much a product as the product itself.
4. Involving QA in 3 key aspects of digital transformation.
For James, these are:
Defining what success looks like for the project and for the customer
Understanding whether the process is repeatable and frictionless
Taking the devil's advocate role to determine if the company is doing the right thing.
You're welcome to listen to the podcast and obtain more precious information on the topic!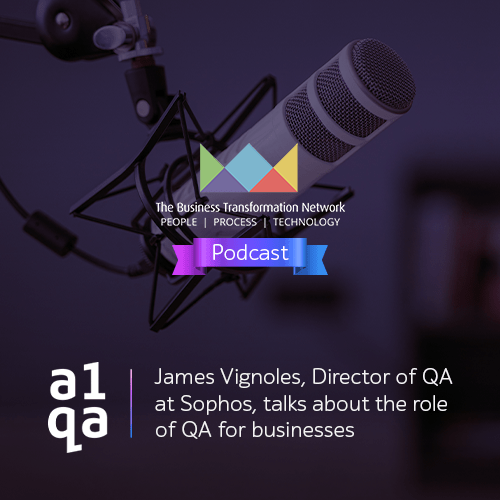 Get hold of the a1qa experts in case you need QA support in improving your software quality.