Blog
3 do's and 3 don'ts in BFSI software testing
Considering BFSI to be a fast-paced industry, how to keep up with such velocity? We've prepared 3 do's and 3 don'ts that help sustain the rush and high software quality.
29 January 2021
Aiming to astonish end users, BFSI companies have created dozens of new opportunities ― eWallets, online services paying, crowdfunding platforms, and much more. The further going into development, the more complex BFSI solutions are becoming.
Dealing with finances and sensitive data makes this industry strictly liable for the soundness and safety of the software created. Within its serious and conscientious character, the quality should become a top priority.
The World Quality Report 2020-2021 indicates BFSI has a higher degree of achieving targets than the other industries that took part in the survey. For instance, two-thirds (66%) of banking organizations cover all the software functionality through QA.
However, to set the leading position in the market is not as challenging as to sustain it. Let's have a closer look at the QA role in developing the BFSI industry and how it helps keep the outcomes for a long time through 3 do's and 3 don'ts in software testing.
QA for BFSI: yes or no?
The banking, finance, and insurance industry is a tidbit for hackers. This is why BFSI solutions are highly susceptible to cyber attacks. Moreover, the soaring number of online transactions assumes more opportunities to acquire sensitive data illicitly and opens new ways for criminals to target both individuals and organizations.
Some statistics indicate a 238% rise in cyber incidents on banks is a cause of the events of 2020, so 80% of companies have seen a surge in malicious usage. Thus, customers' safety and privacy are gaining even higher rank, and this is where quality assurance is to be a paramount measure to avoid undesirable digital actions.
We gathered some tips on how to provide high quality of BFSI apps within the industry's fast paces.
3 don'ts in QA or what may blunt the effectiveness of QA
Within a promptly evolving BFSI market, companies are striving to shorten the software development life cycle to speed up time to benefits. We have observed some of them apply measures that bring short-term results and impair both software testing and programming activities.
1. Do not cut test coverage to speed up QA processes
Compromising on some test cases and functionality under test might bring losses rather than benefits. It is worth verifying the entire BFSI solution to be sure its operation is stable and reliable. Otherwise, one might miss critical defects that may adversely impact the application in the go-live stage.
2. Do not follow false economy when it comes to test automation
Test automation is also a favourable method of accelerating release time that many companies turn to. However, organizations face challenges when implementing it owing to makeshift test automation. Within the lack of QA teams' skills and poorly defined QA strategy, automated tests may be performed in a non-lean way.
For instance, if companies maximize test automation scope, further changes in functionality may slow down the QA processes due to time-consuming revision of the automated tests. On the contrary, a shortage of test automation cannot save precious time and the manual efforts may remain at the same level bringing fewer value or no value at all.
3. Do not lose a huge customer base part due to bad UX or slow performance
Despite of the extensive usage of portable devices, some companies compromise on mobile testing and perform web checks only. That's why we may observe a decline in customers' satisfaction with mobile offerings, as Deloitte demonstrates. The widespread error in mobile testing is leveraging emulators instead of real devices.
Mobile apps have already become a vast stratum, so they need to be tested thoroughly. Let's ponder recommendations on improving QA that can turn the tide and ensure achieving desired outcomes.
3 do's for productive BFSI software testing
Returning to one of the crucial business objectives, accelerating time to market, companies should implement novel approaches and technologies into a QA strategy to have a long-term beneficial effect.
1. Do opt for a professional approach to adopting test automation
The most pervasive way to derive these results is by introducing wise test automation. It assumes a balanced automated test scope and its application to features that QA engineers check frequently and change in several weeks.
Thus, it speeds up the processes and helps find bugs early in contrast with manual testing. To get more value, companies are starting to introduce innovations into test automation processes. Despite its slight beginning, the embedding looks confident and promising. In the picture below, you can see the top 3 aspects of reimaging test automation.

2. Do focus on mobile apps testing
Coming back to portable gadgets broad usage, the BFSI industry also is geared towards releasing mobile apps. According to J.D. Power's recent survey on financial services, 54% of banking customers prefer using mobile apps.
So, as the demand for mobile solutions has increased, companies should do their utmost to provide end users with top-notch systems. Comprehensive mobile testing can help ensure stable network connectivity and flawless apps' operation during third-party interruptions (income calls, notifications, charging, etc.).
3. Do rely on the enduring classic of holistic QA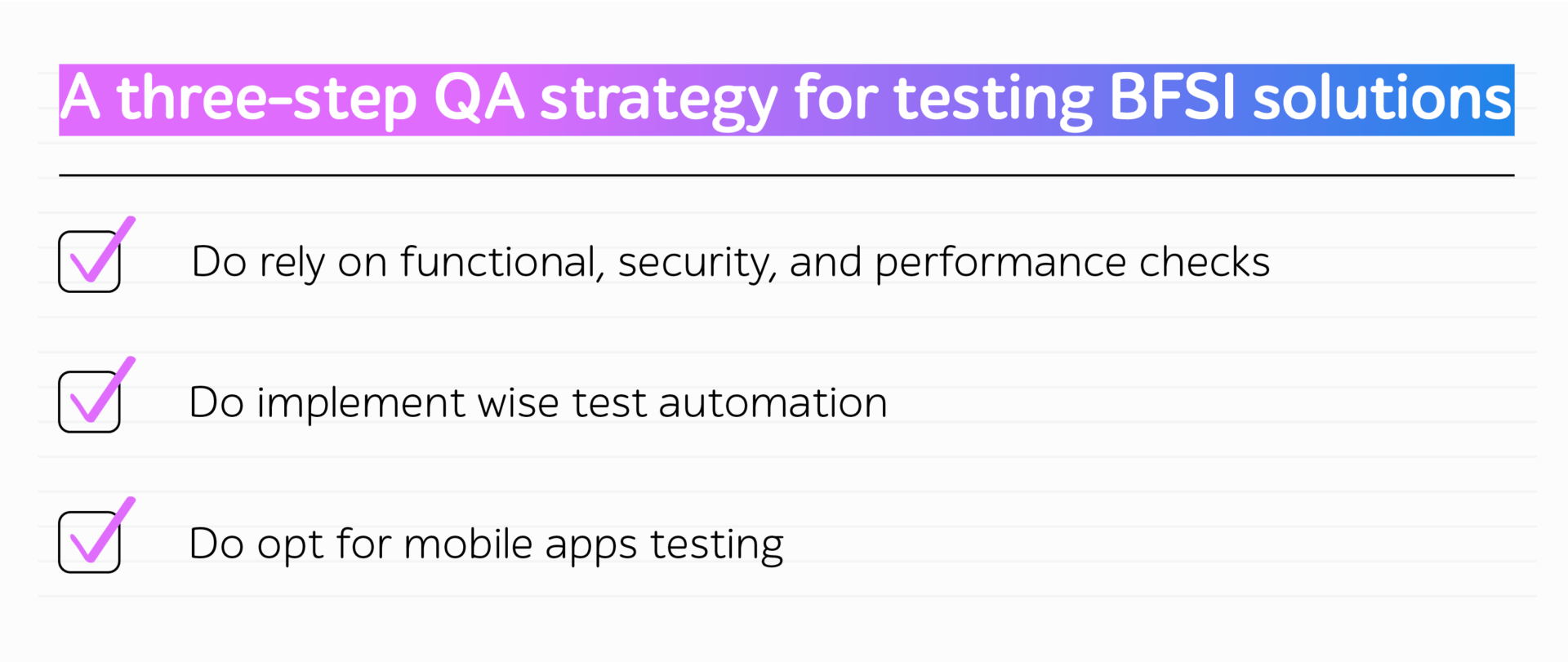 The must-have testing types for BFSI solutions should include at least functional, security, and performance verification. Thus, one might be confident in the system's operation following the pre-defined requirements, personal data privacy and safety, and stable work under heavy load. Testing types may vary depending on the IT solution's purpose and specific business needs.
Extra: Do create space for implementing progressive testing approaches
Shift left testing and DevOps practices are becoming prevalent amid companies. Onboarding QA specialists at the initial SDLC steps paves the way for timely detecting defects and avoiding expensive bug fixing in the go-live stage.
Summing up
Within the fast pace of developing the BFSI industry, it is getting more and more challenging to keep leading positions in the market.
Some companies apply less effective strategies such as makeshift test automation, cutting the test coverage, and compromising on mobile testing.
We recommend rethinking these methods of speeding up the QA activities and implementing more progressive ones, like lean test automation, novel practices, and a balanced QA package.
Need support in BFSI testing? Get hold of us, and we will arrange a consultation with a1qa's representatives.