Blog
Addressing 4 security issues for digital transformation programs
Find out the top 4 safety challenges of digital transformation and a QA playbook to address them and contribute to a higher level of cybersecurity.
29 April 2021
How many companies have you heard of passing digital transformation journey in 2021? That's a tough path, and there are questions to answer. They reimagine IT strategies while introducing innovations while applying brand-new approaches to handle business and operational processes.
Despite that, only 16% of executives submit the successful digital transformation journey. What slows down the digitalization of other 84% of companies?
One of the barriers is a growing amount of cyberattacks. Ensuring data privacy and proper cybersecurity is a top priority of any company aiming to succeed in executing a transformation program.
In this article, we shed light on the top 4 security challenges of digital transformation and QA activities that may help troubleshoot them.
Four security issues that hamper digital transformation
Within the current informational era, cybersecurity has been taken for granted. However, due to swift migration to an online space and digitalization happening globally, companies are encountering an increased volume of cyberthreats. According to Statista, 32% of respondents admit that the growing likelihood of data breaches was one of the main digital transformation concerns of 2020.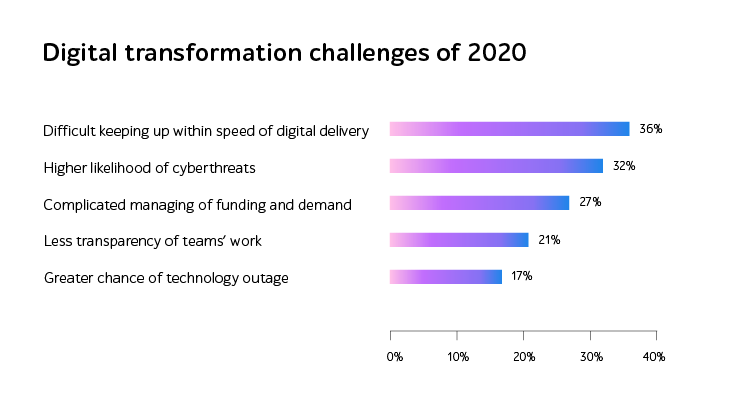 Source: Statista
Why? Let's get this straight and figure out the top 4 security issues.
Security issue #1. Tech evolution with the same safety level
IT infrastructures are steadily expanding by introducing novel technologies. For instance, cloud computing is the front-runner when it comes to delivering enterprise infrastructure. Also, noteworthy is that hybrid cloud users were twice as likely to have incurred a data breach over the past 12 months.
With that, improved IT solutions in turn have a higher susceptibility to attacks, as these enlarged ecosystems broaden the scope of vulnerabilities while generating more possibilities for hackers.
Security issue #2. Sophisticated cyber incidents
Digital transformation also has a dark side of force. Alongside bringing value, innovations foster malicious actions by providing advanced tools, environments, and approaches to unauthorized apps usage.
For years, cyber attackers have been perpetually nurturing a malware arsenal, so that their behavior has become more unpredictable and thought-out. For now, detecting malusers and forestalling expensive system's recovery after cyberthreats is rather complicated, as it requires a rock-solid strategy and ceaseless control.
Security issue #3. Overcomplicated cybersecurity standards
Being the most precious entity for any modern business, personal information needs high protection that triggers regulation actions. Within today's growing intensity of cyberattacks, standards have become stricter and more regulated.
Compliance with cybersecurity standards is a complex and costly task. However, 80% of the data experts and IT professionals agree that stringent security norms can benefit their companies in the future by helping pass the certification and deliver upscale and safe software in the market.
Regulations that cover all life-threatening industries: HIPAA security checklist is for eHealth products, OWASP safety recommendations are for any-domain web and mobile apps, GDPR is for enabling secure data storage and transfer worldwide.
Security issue #4. Lack of the right-skilled people
While malicious users are constantly refining their skills, businesses don't always have an appropriate volume of finances, experience, and right-skilled employees to address emerging cyberthreats.
With that, companies should gradually reimage budget allocation while keeping up with the relevant cybersecurity insights and providing advanced training for broadening expertise.
QA for safe digitalization
We strongly believe that prevention is better than the cure. Being prepared to respond to any security breach is not about being anxious but more about minimizing risks especially meanwhile the crisis. So, what actions may be of help to deal with security issues?
Welcome to the handbook to assist you in releasing highly secure IT products.
1. Strengthen security practices
The essence of security issues remains the same while the scale is much larger. The latest edition of the World Quality Report states that the pressure of COVID-19 has sped up digital transformation programs. One of the consequences is that while the business is expanding, the demand for security testing arises.
The more business operations that are being brought to online, the more vulnerabilities and data breaches have gone up. This is why 83% of CIOs and IT directors say that their apps security concerns have increased over the last 12 months.
Starting from security assessments to controlling data protection at the go-live stage, businesses may get substantial value and minimize the risks of cyberattacks. After identifying drawbacks, engineers execute penetration testing while imitating hackers' behavior to create real-life conditions and not to miss any critical defects.
2. Shift from DevOps to DevSecOps
DevSecOps is all about thinking ahead and projecting "How can I deliver the software in the market successfully?" even when you are on the requirements stage of SDLC. Which of course, is about the determination to automate as many processes as possible including security checks, audits, and others.
DevSecOps assumes a "security-by-design" approach based on the following aspects:
Caring about data safety from the very start of an IT project
Applying mechanisms that supervise the impact of newly added features on the overall software security
Setting up internal safety defaults
Separating responsibilities for various users
Introducing several security control points
Thinking over the actions in case of an app crash
Performing audits of sensitive system's parts
And many others.
By considering these points, it is much easier to enable high data protection and become confident in users' privacy.
3. Optimize security testing with automation and continuous security monitoring
Test automation is an escape solution to the escalating intensity and amount of cyberattacks. By automating security testing, specialists can swiftly perform checks and identify the attack. Besides, it helps increase overall efficiency on the project, accelerate time to market, reduce QA costs.
Moreover, companies are gearing towards implementing AI and ML in the QA processes. Their ability to define the roots of the attack and the system's vulnerabilities allow for dodging expensive bug fixing after going live and data loss which includes the stealing of intellectual property. The results of express analysis delivered by AI and ML help prevent possible similar attacks and vulnerabilities in the future.
Summarizing
Ensuring data protection and a high level of cybersecurity is among the cornerstones of passing digital transformation.
Within emerging tech advancements, hackers are also nurturing their skills and becoming more adept by strengthening their strategies.
To be one step ahead, companies should consider reinforcing digitalization processes with thorough security testing, including right-skilled personnel, penetration checks, DevSecOps practices, and next-gen QA to guarantee the delivery of reliable and secure software in the market.
Contact a1qa's experts to get professional QA support in enhancing cybersecurity level.