Blog
Optimizing telecom budgets with QA outsourcing: everything you need to know. Part 1
Learn how to optimize telecom's quality assurance expenses by relying on a trusted QA partner.
27 October 2022
Projections by the Market Analysis Report show that the global telecom market will reach $2,467.01 billion by 2028. That's a lot of (valuable!) communication on the horizon.
To maintain a leading position in such a fiercely competitive market, businesses need to ensure each software roll out meets the highest standards of quality for their end users, and do so while staying within QA budgeting parameters. One of the most effective ways to achieve this process is by partnering with an outsourced team of QA experts.
In this article, we'll cover the following:
Why companies should never skimp on software quality
How effective QA providers work hand-in-glove with telecoms to ensure best-in-class solutions.
Budgeting for QA: Stay wise when you economize
The telecom sector remains ascendant in the wake of the Covid pandemic, and continues to develop rapidly. As the tech that telcos provide to their customers keeps accelerating, so do expect end users when it comes to flawless connectivity.
This demand only reinforces the pivotal role that software testing plays in helping telecoms stay competitive. And the stats back this up: 61% of the World Quality Report 2021-2022 respondents from telecom companies state that QA has helped them enhance customer experience and security as well as achieve quality at speed.
Being complex and multi-component, effective, long-term telco solutions require adequate investments in QA. However, due to budget limitations, some companies scale back on functional software testing, which can lead to potentially devastating consequences, including damaged reputation, accelerated churn rates, lack of business growth, and worse.
Let's consider three possible scenarios, demonstrating what may occur should you opt to skimp on testing software.
Scenario #1
TT&A, our hypothetical telco, has a billing and customer service system designed to offer a universal line of services for various types of networks. But their in-house QA team does not have enough expertise to perform full-fledged testing of the software, and it goes live with a range of critical and minor defects. As a result, churn rates balloon as unsatisfied users turn to rival IT products, shifting their purchasing power to companies whose software has no bugs and provides superior CX.
Scenario #2
In an attempt to cut corners, TT&A only conducts functional and usability testing. They decide to forego any QA tests concerning performance, cybersecurity, integration and so on. Trying to minimize QA costs, our fictional company suffered both short-term and long-term losses, because the lack of cybersecurity checks led to many vulnerable points through which hackers penetrated the system and captured personal data. And as we all know, this type of occurrence is not the work of fiction — data breaches can cost a company millions of dollars.
Scenario #3
Finally, imagine that TT&A has another telco product, designed to unite several core parts of the operation ― billing system, software for providing Internet access, accounting clients, and tracking invoices. After testing each module separately, they decide to omit comprehensive integration tests and verification. When the software was released, the system could not accurately identify users who had paid their bills and randomly cut off connectivity to certain customers.
Our examples point toward what not to do, but that doesn't mean mitigating risk and optimizing performance requires blowing out your budget. Outsourcing QA tests to a trusted partner has been shown to drive up outcomes in software and application quality, and do so while decreasing costs.
How QA outsourcing helps optimize software testing budgets for telecoms
By applying professional expertise to the following four core aspects of QA, third-party vendors can assist telco businesses in decreasing expenses associated with assuring software quality:
Software assessment. Does your team know precisely which checks are pivotal for your software? QA professionals evaluate the IT product and its specifications to wisely choose a comprehensive QA strategy, tools, and testing types ― all needed to fine-tune workflows, quickly detect critical defects, and refine the quality. At this stage, experienced specialists also ensure proper test coverage through test design techniques. To verify the app accurately, they consider the specifics of the telecom industry.
QA activities setup. Establishing a QA process (especially from scratch) is time-sensitive and budget-consuming, involving investments in devices, toolkits, and workstations, and stopping a variety of major tasks. Possessing extensive expertise in telecom projects, third-party specialists take over the entire software testing cycle and perform all mission-critical stages: analyze requirements, plan, design, and execute tests, create reports, and so on.
Team agility and scalability. Let's say your QA team consists of 3 engineers, and the testing scope is constantly evolving. How long will it take to find and onboard a new specialist? These concerns can be effectively taken off your plate — by staying agile and adaptive to the needs of the moment, a QA vendor can easily and smoothly expand or reduce the team of highly educated experts with vast experience in telecom at any time.
Employment process. The QA provider independently organizes the procedure for recruiting the most suitable specialists and onboarding them for the project. The annual salary of a test automation engineer is currently around $73,000 per year. When factoring this into the funds required for equipment and training, it's easy to see how quickly costs begin to rise for a telco. A trusted vendor undertakes all these expenses, allowing you to focus on core business operations and subsequently increase ROI by producing a high-quality end product.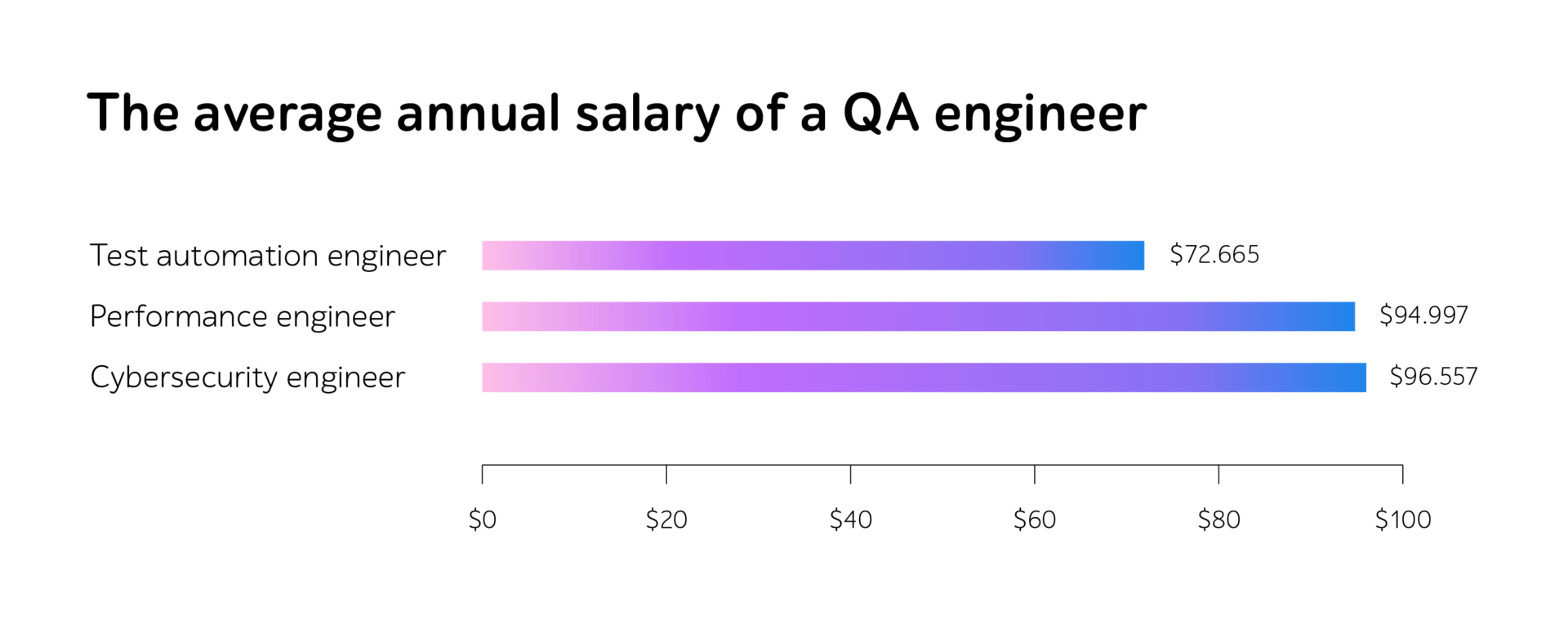 Source: Payscale
In Part 2, you'll discover the difference between dedicated and project team models and challenges when working in a multi-vendor environment. Stay tuned and expect our next blog.
In case you'd like to optimize your telecom budget and refine software quality, contact a1qa's experts.