Blog
App software testing for telecom: What are the common issues telco providers face?
Facing problems with the quality of your telecom software products? Read more in the article and find out the ways to address them.
30 June 2022
The telecommunications industry has undergone changes since the crisis, driving an increase in traffic from 20% to 60%. When you grow fast, sometimes, challenges appear, like data breaches and unstable telecom app operations.
In the article, we develop the point of QA helping tackle them, and we share insights into how to do that confidently.
QA for telecom products: reaping benefits
Meet John. He is the head of IT department in John & John Corp., a mobile operator with over 10 million subscribers. How much sensitive and financial data company's products store is anyone's guess. And sounds like the No. 1 target for cybercriminals.
In addition to cybersecurity, user-friendliness and stability of telecom solutions come to the forefront. Today, one out of three consumers is ready to change providers because of bad customer experience. That's not a good scenario for John.
93% of the 2021 Network Test Survey's respondents believe that software testing helps boost clients' satisfaction and reduces churn. This is the reason why telcos focus on it, so let's see what advantages John may reap with QA strategies at the core.
Higher customer retention rate and boosted CX
In 2020, the customer churn in the telecom industry reached 21% and was the result of the poor quality of software products. QA is the one to lower these rates and assist in guaranteeing strong protection of end-user data, crash-proof operation, and easy interaction with the app.
Fine-tuned internal processes
To enable internal communication between departments, John & John Corp. implements CRM and ERP solutions. No bugs mean that the main work is focused on enhancing telecom products' quality and goes as intended, all QA processes are set well, allowing for a faster release.
Core business systems with embedded quality
As OSS and BSS are complex systems containing a lot of data, it's mission-critical to conduct comprehensive testing to ensure they work efficiently and help meet business requirements. OSS/BSS testing assists in ensuring quality of all the system's modules, including billing, CRM, data warehouse, network care, service assurance, etc.
Driving business innovation with confidence
The telecommunications sector is constantly offering new technologies, such as 5G, which is predicted to reach $1870 billion in 2030. Not to mention 6G that will become a new reality in the near future.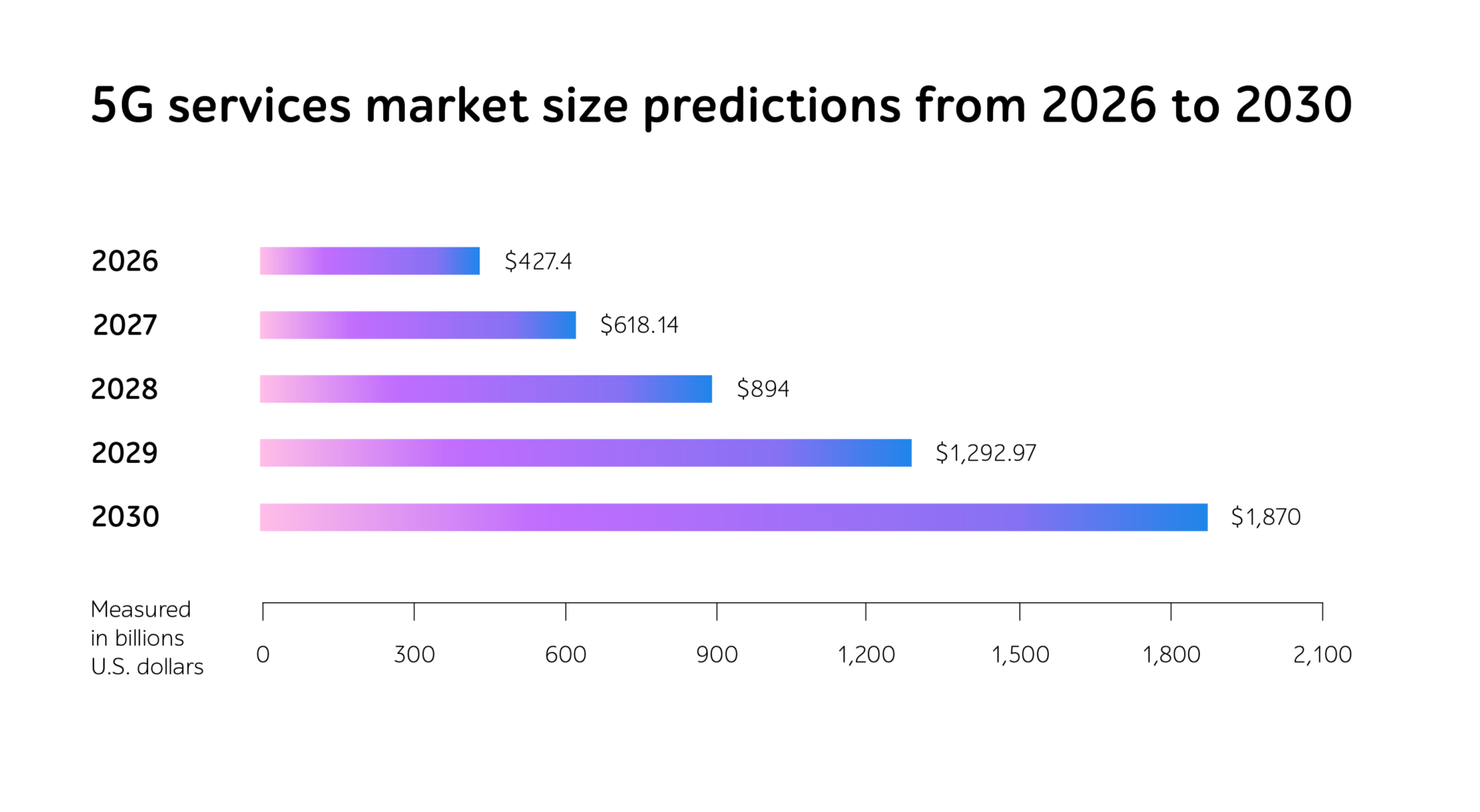 Source: Precedence Research
Innovation helps companies grow, but technologies also need software testing to offer the ultimate digital experience to end users.
Addressing 3 QA challenges of telecom companies
It's all clear with the benefits that QA brings to the table. Now, it's time to talk about the difficulties that companies face when producing telecom software products.
Challenge #1. Too heavy loads
Imagine that John & John Corp. creates a unified billing platform to replace standalone billing systems. It keeps crashing as the load generated by 10 million subscribers was previously distributed across several systems, and now a single platform should withdraw it.
Adding performance testing to a QA strategy is a cure for this issue — to identify performance weak points and determine the app's behavior under regular/increased loads, making sure it can handle it.
Challenge #2. Alluring target for cybercriminals
Telecom companies store an enormous amount of personal and corporate data transmitted via e-mails, messages, online transactions, phone calls, etc. as well as serve as an entry point to other infrastructures. To prevent data breaches, it's business-critical to be aware of the most common attacks:
DNS attacks are the most widespread among telcos operators. Intruders exploit the DNS vulnerabilities to redirect traffic from the authorized website to the fake one.
During DDoS strikes, cybercriminals block the platform by submitting a number of requests that exceed the bandwidth of the network.
Another hackers' method is sending a SIP attack when unusual, non-standard messages containing invalid data to make the system fragile.
John wonders, "What is the remedy for this issue?"
Well, cybersecurity testing helps reveal system vulnerabilities and safety breaches to prevent them from the jump-start. To get as much information about the security state as possible, QA specialists rely on one of the most suitable approaches:
White box — when possessing access to the source code.
Grey box — when partially understanding the product specifics.
Black box — when having only the organization name and the URL of the app.
However, John wants to make sure that the IT solution and the network are intrusion-proof. Then, it's time for penetration tests — QA engineers implement hackers' tools and mimic their malicious methods to check the possibility of gaining control over the network and the risk of system's susceptibility to DDoS and brute-force attacks.
Challenge #3. Slow delivery of new functionalities
When new functionality comes along, it's crucial to check the quality of the existing features. To do it, John's team introduces manual regression testing. In time, they realize it is an extremely tedious process, slowing down the delivery speed, and choose automated regression tests. Now, experts focus their time and effort on business-critical tasks as well.
The telecom infrastructure is complex, meaning that manual testing isn't the way out not only for regression but other testing types as well. Putting test automation at the core of the business strategy helps increase efficiency, reduce test cycles, and expand test coverage. Let alone a faster launch of the updated software version.
In a nutshell
Today, telecom companies need to ensure the high quality of their solutions more than ever, bearing in mind the complexity of the infrastructure, the large amount of private data stored, and the heavy load on the products.
By implementing software testing, businesses reach higher customer retention rates, boost CX, fine-tune internal processes, embed top quality within OSS/BSS, and confidently drive innovation to the market.
Wondering about the state of quality of your telecom products? In case you need professional QA support, reach out to a1qa's experts.