Blog
QA outsourcing – the respond to unprecedented global challenge
How can companies meet their business-critical needs without health risks? QA outsourcing is the answer. Get to know why it is the right decision in this time of need.
31 March 2020
No turning back. The world will hardly be the same again.
The COVID-19 virus spread is literally impacting every economic sector and every component of every sector. It enforces private local organizations, big enterprises, and entire industries that transform their processes to survive in these days full of challenges.
The fears caused by COVID-19's power usurpation continue worsening the tragedy of losing lives apart from an immense effect on businesses on all continents.
In the recent research "Managing supply chain risk and disruption" (compiled by Deloitte), the coronavirus is called the black swan continuing to ambush all industries not feeling sorry for anybody.
And managing the crisis impact is becoming a challenge as the world is changing day-to-day, and we can only assume what will happen in a few months. For sure, coronavirus influence on global economic performance cannot be understated. And in the heart of the breakdown, we also see millions of people naturally living in an online environment. It leads to the natural shift of offline businesses to online mode.
In this blog post, we will highlight how companies can meet their planned business objectives with no health risks involved with the help of QA outsourcing.
Be certain in the uncertain times
How to enable your company to remain strong enough? As the unstable situation triggers acceleration for digital transformation, adapt to the rapidly changing end-users mindset – digitalize your business as soon as possible and give consumers what they are searching for.
Imagine the scope of the audience that is moving to an online landscape: you can attract clients that can become your brand advocates and current buyers if they are satisfied with what you are doing.
It is a well-known fact that companies focusing on boosting CX get revenue higher by 4-8% than the rest ones. By now, consumer behavior is modifying. New demands. Growing expectations. This is why the definition of positive customer experience is changing as well.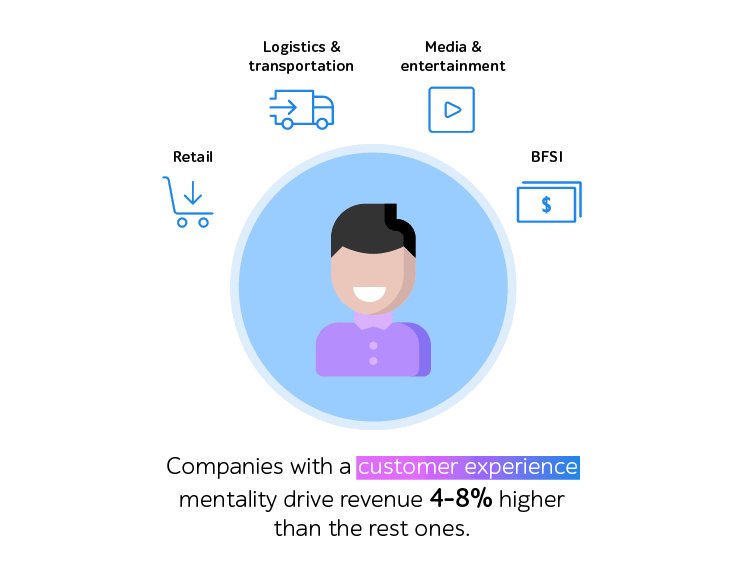 In retail, representatives are acting in a new way, changing the processes that used to become habitual and clear, and optimizing it as soon as it becomes possible. Indeed, some challenges in this sphere are much like extremes especially when you need to rethink the supply chain.
eRetailers in red zones need to make a shift to more essential products and be sure their digital solutions will fulfill their tasks even if a target audience, which has increased by many times, will opt for their goods. They are having the goods delivery happen more often – for this, QA practices can help ensure the client can see the whole goods variety, order an item, and pay for it in online mode with no system interruption.
With the BFSI industry, the impact is more moderate. When banks workforces are mobilizing to remote work, their consumers are searching for more operational flexibility along with expanded digital banking opportunities. Software testing is here to leverage the delivery of top-tier software products.
How can QA outsourcing help respond to the situation?
The unstable conditions clearly showed the importance of having a truly global delivery model. If not so, a QA outsourcer can provide high-quality B2B technical support of the companies in this critical time of need. In addition to digital transformation, new demand in terms of moving to Agile as well as to the cloud is becoming more essential, and a third-party vendor is up to ensure smooth transitioning during the lockdown.
It is also important for the business to stay focused on the core business needs and anticipate the risks while the partner can accelerate the successful release of the software product.
How exactly can a QA outsourcer support a business?
Provide an independent assessment of software quality.
Ensure the increased speed of jump-starting the project in a couple of weeks.
Reach time and budget savings due to wisely implemented QA solutions like test automation.
Select the right QA talents with niche and industry expertise.
Deliver smart team scalability depending on the current needs.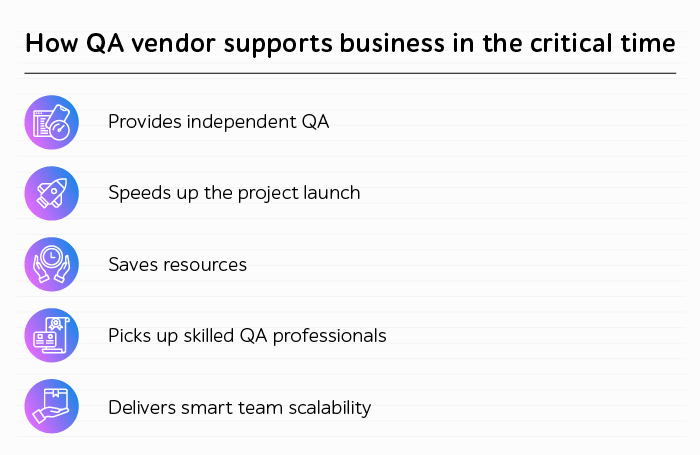 At a1qa, we deeply delve into the business needs of the client to understand its pain points. This is how we created an Aquality Automation platform for test automation to help decreased QA budget and tests' duration.
Four characteristics of a well-trusted vendor
Now, the deal of every service provider is to continue delivering high-quality solutions to ensure uninterrupted service delivery and not forget about their own business-critical needs.
QA outsourcing can leverage your appearance in the right place at the right time, rather than drown under the weight of changes.
Here are four factors that can help you choose the right third-party company.
A solid reputation in the market. Mark positive and negative customers' references, recognition of authoritative sources, niche certificates.
Company of needed size and required competencies. Ensure a vendor is skilled enough to meet your business challenges and has proper QA experience based on the success stories in the portfolio.
Clear communication process. Is your initial communication transparent? Do you feel that people talking to you are qualified? Answer these questions to decide on the communication levels.
Business continuity during this unexpected time. Ascertain that the company can provide continued confidence that the planned operational outcomes will be achieved.
A really well-trusted vendor provides full immersion in your processes, problems, goals and has already done a mental shift to adjust to the "new norm".
Thinking about making the right decision in almost total uncertainty? Drop us a line to get expert advice from the a1qa professionals and see how we can support your business.