Blog
Finding technologies value during digital transformation journey
To develop and make a good profit in the context of digital transformation, businesses have to follow the trends in this area. Make sure you know how technologies can help in the process of digital transformation.
20 February 2020
Digital consumers are impatient when speaking about fulfilling their wishes as quickly as possible. The companies that process such requests faster than competitors do enter their list of top brands.
By being recommended to other customers, the businesses are actively growing and obtaining the desired outcomes, including increased market share, cost reduction, profit growth, etc.
For the digital consumer, it does not matter how the company grants these wishes. But many businesses have already realized that adaptation to the requirements of customers is easier when going through the process of digital transformation.
Today, we will focus on what trends and strategic amendments can help the company pass it with fewer difficulties.
Digital transformation strategy components
Each successful digitalization story begins with creating a strategy. It is no longer enough to invest only in the implementation of new technologies, e.g. connecting social networks to a website or creating a chatbot.
Digital transformation implies a significant change in the business model as well as mindset, starting from the product itself and up to improving customer service items.
Before following digitalization, make sure you have taken into consideration the customer experience issues and adaptation to the upcoming changes.
Boosting customer experience
Step-by-step work on managing CX increases the satisfaction and loyalty of current and potential clients and reduces the risk of their outflow.
Digital transformation rethinks the customer experience paradigm. Now, companies should invest in technology that helps accumulate, analyze, and apply clients' data.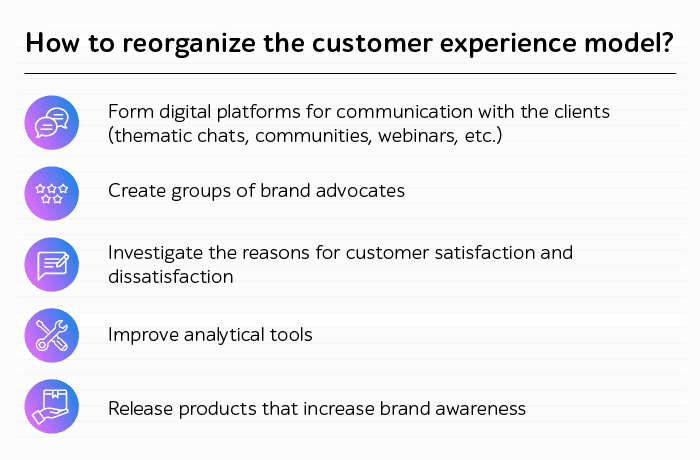 In addition, any company that is entering the global market should be aware of the importance of generating end-user loyalty concerning its software product. Internationalization and localization of software can ensure successful adaptation of the application to work around the globe. Have a look at what is important to consider when testing such an IT solution in the article by the a1qa expert.
Quick adaptability to the new conditions
Broadly speaking, adaptability is the speed of businesses' changes. The company has to clearly understand its plans in the market and follow the latest trends. But introducing innovation without a clear understanding of the benefits to a business can be really harmful.
Adaptability also refers to locally tailoring a product to various formats of its usage. For example, not all companies have adapted their websites to mobile phone screens, although since 2017, mobile traffic exceeded that of the desktop.
According to a study by Oxford Economics and SAP, 93% of senior executives surveyed believe that digitalizing a business is critical to survive in the market.
The basis of digital transformation are cutting-edge technologies
For some time, leadership in the market can be preserved with no innovations adoption, but not for long. Read below about technologies that can help to stay afloat and ahead of competitors.
Internet of things
The internet of things (IoT) has become a new stage in the development of the digital world. The main feature of IoT is that there are fewer people online compared to the number of things. According to a Gartner study, the number of things connected to the Internet in 2020 will be over 21 billion items.
IoT connects the objects around us with a global network, where they exchange information and work with no human intervention. How can the IoT technology benefit to a business?
Helps keep track of all business assets. Sensor control systems and detectors quickly identify problems while the system independently takes measures to eliminate them.
Rapidly identifies problems reducing potential business profit losses.
Generates online analytical reports.
Within the IoT trend, digital twinning is used to digitally reflect a real physical object, process, or system and indicate how to increase their efficiency as well as track the technical health and create new technologies.
Here we provide a success story on how this concept was applied to our project.
a1qa was contacted by a company that develops, manufactures, sells, and services analytical equipment for the scientific community to ensure high-quality levels. The system under test consisted of three components: the main processing center, lab, and real devices for water quality indication that were connected to the lab.
To conduct performance testing, the QA specialists would have required to launch the whole laboratory with hundreds of computers and devices. To reduce testing time and save QA budget, a1qa specialists developed a simulator for real devices, which helped mitigate risks and accelerate time to market.
Cloud technologies
In 2009, cloud technology represented 5% of the global IT market ($17 billion). Furthermore, in 2014, business investments in cloud technologies were amounted to over $175 billion. There is no secret that this indicator continues to rise.
Cloud technologies provide convenient network access to the information fund and allow several teams to work on a project at the same time.
According to the forecasts of the international research and consulting company IDC, cloud services will be actively used in 2020 and after. This can allow companies to work anywhere and anytime.
In five years, more than half of the businesses are expected to develop 90% of cloud-based and microservices-related applications. IDC encourages them to think about it now and start working with open-source software communities.
Artificial intelligence
Artificial intelligence (AI) has significantly improved the quality of business processes by quickly managing large amounts of information, accelerating the pace of goods production and task execution, and improving the product-user experience.
For humans, the technology has a familiar and understandable embodiment of the voice assistant. Starbucks is a good example of a company that uses AI to work with clients. Alexa's cloud-based virtual assistant has become a waiter on the Starbucks network. A user may request: "Alexa, let Starbucks make my coffee."
AI-based digitizing will require serious financial investments. In order not to lose money in vain, the process of introducing AI technology should begin with the definition of business goals.
Machine learning
Machine learning (ML) is one of the most sought-after technical areas for business. The main idea of ML lies in the self-training process based on a given algorithm.
This technology helps create a new line of new goods and services faster, increase the attractiveness of products for the client, and identify the patterns of user behavior.
How to use this technology? For example, some telecom companies have learned to predict the desire of customers to access a service using machine learning. The client receives an offer before directly applying for it. The user saves his time, and the company gains profit.
Big data
By now, people have formed almost 40-44 zettabytes of information, which is expected to increase by 10 times by 2025 according to The Age of Data of 2025 report.
The concept of predictive analytics is closely related to this big data helping identify patterns and algorithms in it. It is especially relevant for e-commerce brands allowing analyzing information about customers' behavior and identifying the likelihood of purchasing in the future.
This year, predictive analytics is expected to be an investment for improving customer experience technologies.
Fast and accurate information processing creates new business opportunities. Though, it is important to remember that working with big data is always related to information security issues. The data leakage can result in million-dollar losses for companies and invaluable damage to their reputation.
To protect the brand from such major losses, you can apply to our experts to conduct accurate big data testing.
Blockchain
The analytical company Gartner called practical blockchain one of the strategic trends for 2020. Now, this technology is badly scalable and is adopted in experimental and small projects. According to the experts, by 2023, practical blockchain will become fully scalable.
By helping reduce costs, increase the speed of money transactions, and provide a more secure data transfer from transaction participants, analysts recommend thinking about implementing blockchain in the businesses in 2020.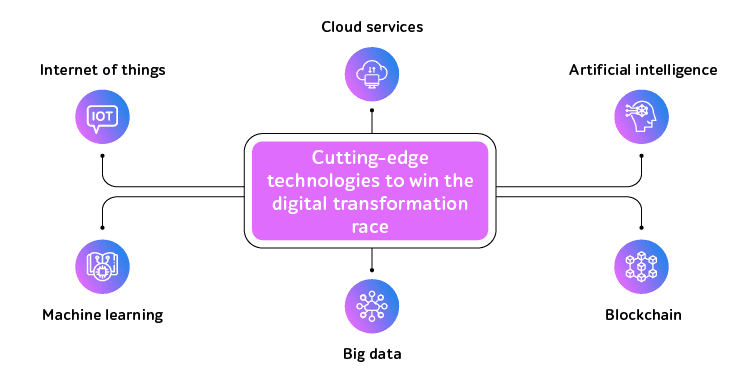 Bottlenecks of digital transformation
It is worth realizing that digital transformation remains a multi-level and multifaceted process. Although introducing advanced technologies is an investment in the future, one can bring the required profits when searching for new business solutions. Nevertheless, digitalization has its downsides.
While being over-enthusiastic at the start of the transformation, the incorrect ROI definition can also be a key mistake. The world has already seen the launch of ambitious projects and companies seeking to become leaders in digitalization, which resulted in money loss.
Another common mistake is when the businesses create a new division and turn it into a deeply integrated company. Innovations designed for good ROI become a financial burden for companies in the present situation.
What mistakes should be avoided in addition to the two named before? For example, starting the journey of transformation for the sake of transformation to support the trend. It also might be an imprudent decision to ignore the creation of a unified strategy with the chaotic usage of tools and approaches.
The process of ensuring the quality of software products is equally important. Timely testing helps release bug-free software and take care of the customers' loyalty providing the necessary business outcomes.
Conclusion
Being an ongoing process, digital transformation is rapidly gaining momentum. The companies have to select the needed types and tools based on the specifics of their business. By using new technologies, brands continue to grow and gain a competitive advantage in the market.
However, the path of digital transformation includes some risks as well. In the case of neglecting to build a coherent strategy, choose the right toolset, and ensure software quality a company can lose its profits.
Soon, businesses can face problems of successfully existing outside the digital space. Step-by-step implementation of this process can help stay on the wave.
Are you thinking about integrating the digital transformation into your business? Request an expert consultation to do it right.