News
A shift towards east! a1qa opens a new office in Boston
We are expanding the geographical presence across the USA to bring more opportunities and make your software products shine.
12 September 2019
One more icing on the cake!
a1qa is opening another US office – this time in Boston. What was the trigger behind this change? Adoption of the advanced testing techniques, growing market, search of new talents – all these aspects have contributed to rapid a1qa development.
The path to quality isn't an easy one, and there's no silver bullet able to solve the issues all at once. The a1qa experts design each QA solution upon your request and tune it to address particular challenges.
Therefore, the a1qa representatives would be glad to meet with you face-to-face at 100 Cambridge Street 14th floor to discuss the ways of strengthening your software solutions.
Nadya Knysh, USO Managing director at a1qa, provides her comments on this milestone:
'The official opening of the office in Boston indicates another logical phase in the company's development. With more than 1,500 professionally completed projects, an unbiased approach to quality, and global delivery, we guide our joint efforts to expand the geographical presence in the region.
Thus, we'll free up additional resources and dedicate more time to designing tailored QA solutions for enterprises so that they release solid software ahead of the competitors.'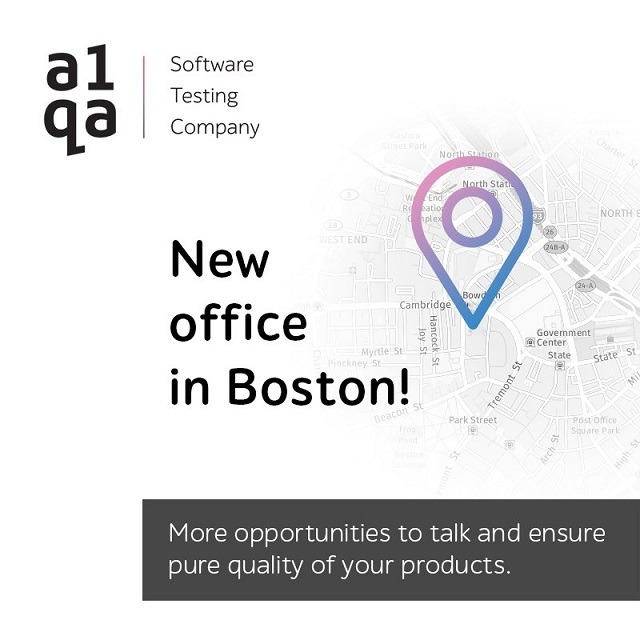 Our specialists are also ready to join you in the vicinity of Boston to talk about quality. To schedule a meeting in advance, drop us a line at start@a1qa.com.
Let's come together!