News
a1qa entered the global list of 100 best outsourcing companies
We are pleased to share another great achievement. The company was included in the annual list of the most reputable outsourcing services providers.
12 March 2020
Keeping the level high! This year, the IAOP (International Association of Outsourcing Professionals) acknowledged a1qa in the top of the most successful outsourcing companies in the world.
IAOP experts annually conduct a global study of top market players, evaluating both newcomers and well-known suppliers that deliver high-rate services to their partners. When analyzing the providers' achievements over the past year, the Association relies on such indicators as the size and growth rate, innovativeness of solutions, clients' recommendations, corporate social responsibility, and much more.
The final rating is one of the most authoritative sources for companies looking for a reliable partner to cooperate with.
CMO at a1qa, Dmitry Tishchenko, shared the opinion:
"a1qa has been providing independent QA services globally for 17 years. During this time, we have helped numerous customers achieve their business goals by improving the quality of their software.
We are pleased that the IAOP experts of the prestigious international company noted our success. Indeed, in 2019, we helped our partners enter the software market faster, develop their internal capabilities, search for and apply new technological solutions.
Being mentioned in the top 100 is not just a reward but also a strong incentive for us to continue improving skills."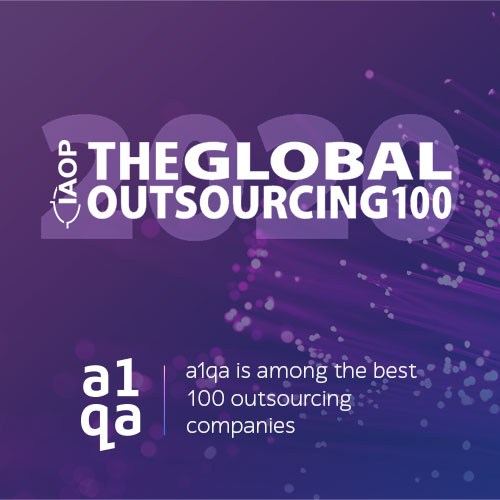 This is not the first success of the company in 2020. Everest Group, an independent analytical company, also included a1qa in the PEAK Matrix® 2020 report.
Contact us if you need advice from independent QA experts.