News
a1qa recognized in V&V PEAK Matrix® Assessment 2020 report
a1qa was acknowledged as a Major Contender in the list of Verification and Validation Engineering Services providers.
25 February 2020
Great start of the year! We are glad to announce the good news. a1qa was positioned as a Major Contender among leading companies in Everest Group's Verification and Validation Engineering Services PEAK Matrix® Assessment.
Everest Group – the leading consulting and research firm, which focuses on IT, business process, and engineering services – compiled this report.
For being recognized in it, V&V applicants were evaluated according to the impact created in the market and professional capabilities to deliver verification and validation services effectively.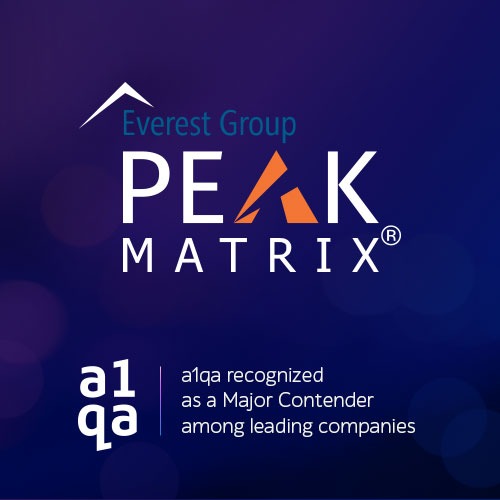 When drilling deeper, the companies must have shown high scores in such sectors as market adoption (number of clients, revenue base, year-over-year growth, etc.), portfolio (diversity of client/revenue base, and type of engagements), and value delivered to the customers based on their feedback and transformational measures.
Being on this list is a pleasant recognition of the company's work and proof of compliance with high-quality standards.
CMO at a1qa, Dmitry Tishchenko, said the following:
"a1qa greatly appreciates being included in this authoritative report. It is a solid proof of our high standards in everything we do.
Within our culture of excellence, this motivates our team to make even greater efforts when providing quality assurance and software testing services to the customers."
a1qa has already been noted in lists of major market players of the QA industry including 'Top 20 Leading Software Testing Providers 2019' by TEST Magazine, Top 1000 B2B companies by Clutch, and many others.

The a1qa team will be delighted to help when you need expert advice in the field of QA. Contact our specialists to consult on the quality of your software.