News
a1qa is among the best 1000 companies according to the Clutch
We made it to another great list. The Clutch 1000 featured the top exclusive companies around the world that deliver true value to their customers.
3 December 2019
What a feather in our cap! One of the most authority's B2B research platform recognized us as a highly recommended company that demonstrated the ability to deliver top-notch services to our clients.
To be ranked in the report, the success of each rating indicator – the brand reputation in global mass media, feedback from customers, industry expertise, portfolio, and more – should be high. And we are proud to be rated on this list.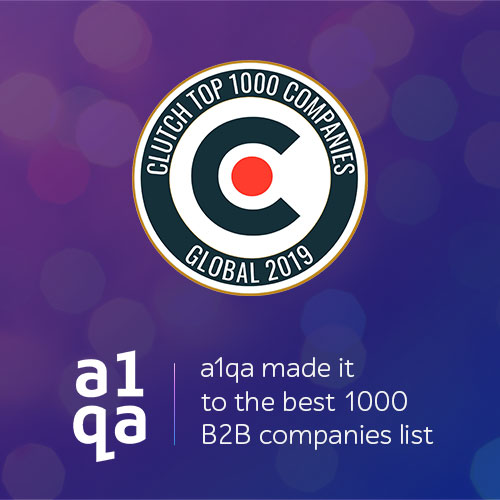 Being a pure-play QA and software testing provider, we deliver a comprehensive suite of testing services like test automation, QA consulting, performance, security testing, and others.
We assure easy adoption and integration with external processes at any project stage through highly flexible, clear, and transparent processes. Our main values are adherence to high professional standards and driving business growth through QA.
Head of a1qa customer acquisition department Dmitry Tishchenko provides his opinion on this achievement:
"The IT industry is moving forward at a high pace realizing that impeccable solutions influence the reputation in the marketplace. By now, achieving the satisfaction of the end consumer is taking its first place in the row of the business strategy. Quality assurance helps determine the success of the solution and drive customer experience.
In providing software testing, a1qa also puts client interests ahead and beyond. We thank our partners for the trust placed in us. The appreciation of our work is inspiring."
a1qa has already been included in 'Top 20 Leading Software Testing Providers 2019' by TEST Magazine. Our in-depth industry knowledge and ever-evolving expertise are the guarantors of your business success.
We are always open to cooperation. You can contact the a1qa experts to get advice on how to improve the quality of your software product.