News
a1qa at Collision 2022: let's connect and talk QA!
Collision is back again, and of course, the a1qa team is among the participants.
21 June 2022
Tech giants, the world's keynote speakers, and thousands of attendees. Isn't it about Collision? Absolutely right! And the a1qa team is already taking part in it.
Held on 20-23 June, this tech conference gathers IT reps from start-ups to prominent organizations, such as Microsoft, AWS, Forbes, and many others to share actionable insights into innovation across various industries.
The a1qa team is already at Collision at the booth E124 highlighting the value of QA for technologies and discussing the ways to solve critical software testing issues that forward-looking companies face when developing apps.
This year, a1qa's specialists have prepared an exclusive perk for Collision participants ― health check for test automation to increase operational efficiency of QA, strengthen tests stability, and maintain regular release cadences.
Welcome to the a1qa's booth E124 to touch upon QA challenges you are facing and find out how to guarantee automated tests reliability and code structure effectiveness.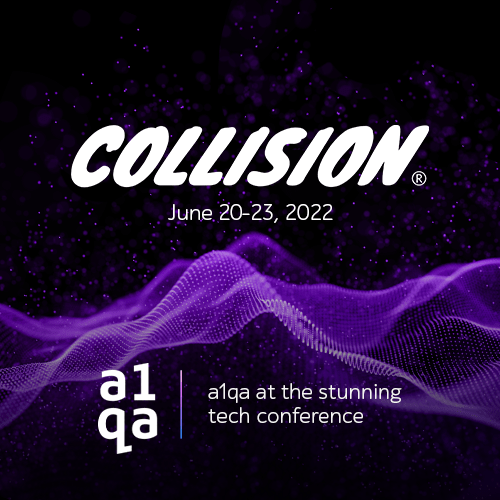 We are looking forward to seeing you during this vibrant conference, and we'll be glad to talk QA!
In case you're not visiting Collision but still need professional QA support in boosting your IT product's quality, feel free to reach out to a1qa's specialists.