News
Forbes Technology Council: a1qa has been contributing to the community since 2020
Nadya Knysh, Managing director at a1qa, North America, exchanges her extensive QA experience with other IT executives within Forbes Technology Council and provides helpful QA tips.
20 February 2023
Since 2020, Nadya Knysh, Managing director at a1qa, North America, has been a member of the Forbes Technology Council and has provided her expert opinion concerning 40+ IT-related topics.
Forbes Technology Council is an exclusive community for senior-level IT representatives, allowing them to exchange their knowledge on a range of topical issues: technology, finance, business, HR and agency.
Nadya Knysh is a passionate leader, who possesses 15-year industry- and process-related experience while regularly giving back to the IT community. She has worked as the head of the Agile testing department running a large-scale team of QA leads and also educated internal and clients professionals on how to build effective QA approaches. Nadya has developed key account management strategies and client satisfaction management approaches to assist customers in releasing competitive software products. Now, as a managing director at the North American business, she develops strategic operating plans, makes sure everyone adheres to set standards, and monitors operating and financial results.
In 3 years, Nadya has written 10+ articles exclusively for the Forbes Technology Council on a range of trending topics, including blockchain, digital transformation, business resilience, QA team management, as well as participated in 30+ Forbes panel discussions.
In her council posts, Nadya provides QA best practices and other valuable tips to help companies fine-tune internal QA processes and achieve key benefits: accelerate time to market, boost release cadences, and optimize QA budgets.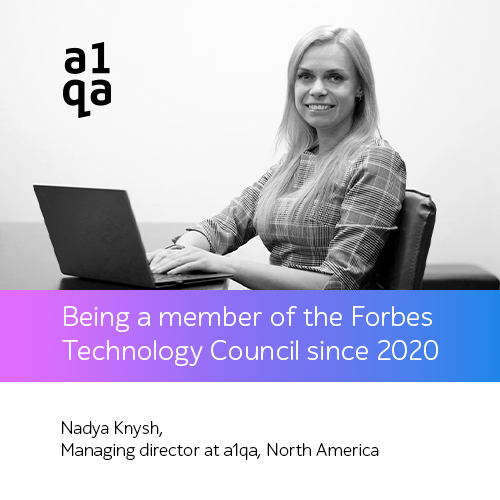 Welcome to discover Nadya's materials on QA and software testing in her Forbes profile, and reach out to us to boost your software quality.