News
Sharing QA expertise at MWC Barcelona 2022: a1qa is among participants
Stellar mobile technologies, brilliant tech conferences, seasoned speakers — did you guess it? Yes, it's a1qa at the MWC Barcelona 2022 to talk about QA.
23 February 2022
Breaking news! The most influential offline event, MWC Barcelona 2022, is back again throughout 28 February – 3 March! And of course, one more good old tradition, a1qa's team is participating to talk about the importance of QA for today's software.
The global congress is bringing together IT executives from worldwide companies to present futuristic mobile technologies and discuss the hottest topics: 5G connectivity, network security, innovative fintech solutions, and many more.
a1qa's experts are joining the exhibition to share professional knowledge on the value that QA brings to the business, get inspired by ground-breaking IT products and speeches.
This year, more than 1,500 exhibitors (mobile operators, technology providers, vendors) are showcasing their top-notch devices and services. Feel free to visit the a1qa team at booth CS27 to get a personal consultation and touch upon QA-related issues you're facing.
The a1qa's specialists are staying in Barcelona up to 7 March. Don't miss the opportunity to meet them and discuss the challenges you encounter when developing the mobile and other products.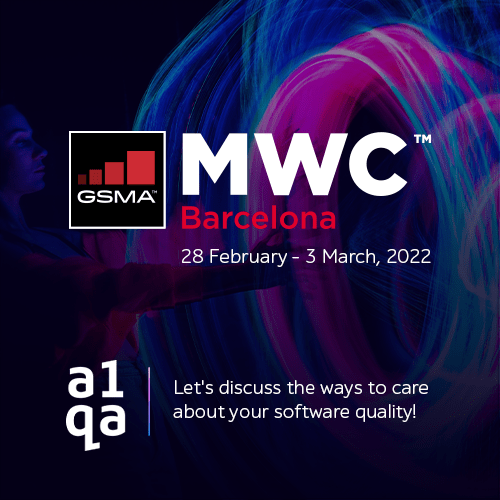 Welcome to plan a personal meeting at the MWC beforehand and join us during this remarkable event or later!