News
a1qa at The BTN's virtual roundtable: key outcomes
a1qa moderated the online session "Driving Transformation – Future Strategies in Engineering Quality" uncovering insights on how to pass digital transformation by implementing a balanced QA strategy with test automation at the core.
11 August 2021
Recently, The Business Transformation Network (The BTN) hosted a virtual roundtable "Driving Transformation — Future Strategies in Engineering Quality" in partnership with a1qa. This session was all about QA and software testing on the digital transformation journey and ways to address them.
The constantly evolving tech market pushes companies to reimagine IT strategies while implementing digital-first approaches. What steps to take to succeed, and how does software testing help ensure high quality?
The a1qa team — Dima Tish, Head of global business development, and Alex Pechinsky, QA consulting group expert — answered these and many other QA-related questions from C-level attendees. During the roundtable, participants were discussing how to wisely integrate manual and automated testing, navigate among the vast pool of technologies, and balance between velocity, software quality, and delivery.
It was also about how to create a well-tuned QA strategy, focus on the business problem and solve it while considering the whole context to discover the best testing tools and methodologies.
By implementing long-term automated testing approaches, companies reduce the testing time, promptly detect hidden defects, and embed high quality and security in their IT products.
"If your go-to-market strategy includes mastering product lifecycle framework, then QA couldn't be more crucial than now. While conveying your vision and strategy, I suggest making sure there's enough space for quality engineering, as it helps gain customers' trust and hit the mark giving them what they value most of all," Dima Tish expressed his thoughts.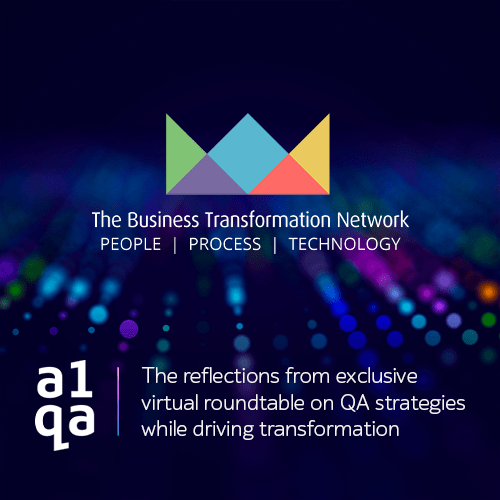 If you need some support in implementing test automation, please, reach out to a1qa's team to get professional QA assistance.