News
a1qa is among finalists at International Business Excellence Awards 2021
International experts recognized a1qa as a finalist at International Business Excellence Awards 2021 in the Best customer experience category.
26 November 2021
No time to stop! The a1qa team has reached the shortlist and became the finalists of the International Business Excellence Awards program in the category of Best customer experience.
Annually, International Business Excellence Awards 2021 (IBXA21) — with offices across EMEA, including the United Arab Emirates — hosts world-class award programs to recognize and celebrate the achievements and business results of forward-looking companies operating globally. IBXA21 included a1qa in the list of finalists in the Best customer experience category.
By reaching out to a1qa, customers obtain a multitude of expected business and operational values. While providing the highest possible CX, ensuring business continuity and round-the-clock QA support to solve arising issues, delivering transparent results, we get acknowledged by customers and receive international recognition by Forrester, Clutch, GoodFirms, the IAOP, Globee® Awards, Everest Group, and more.
To deliver against clients' expectations, a1qa:

Polishes the scope of testing services
Smoothly starts a project
Delivers top-tier service
Ensures process maturity.
And with all that in mind, 90% of clients return to a1qa with new projects to ensure high software quality.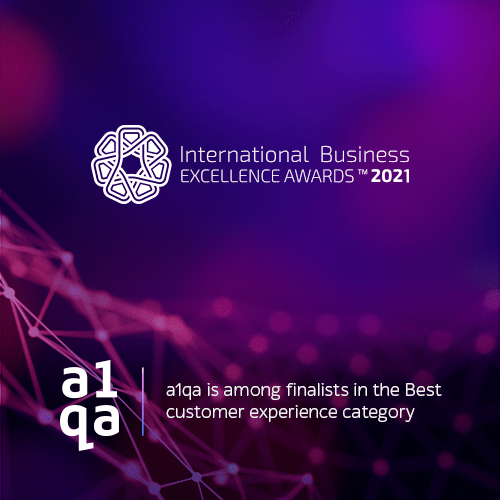 In case you want to improve your software quality, reach out to a1qa's experts to get professional QA support.