News
a1qa's impressions shared after AI Summit
a1qa's experts visited one of the largest AI industry events to share their experience and discuss technology trends with colleagues.
7 September 2020
The AI Summit 2020, the niche conference and leading section of the London Tech Week, finished last week. For several days, it provided an authoritative multicultural platform for IT experts from Europe, Africa, Asia, and other regions. Representatives of 5,000+ enterprises, and a1qa being among them, have teamed up with business peers to discuss key trends and prospects driving the AI advancement globally.
Such events help to focus on the most impactful topics of industry development and find the best technological solutions.
This year, the a1qa's team has attended a range of sessions in the "Innovate", "Initiate", "Optimise", "Retail", "Finance" streams, and others.
We were also glad to meet with colleagues to exchange views on the most creative application of AI solutions and next-gen products, tools, and ways to run a successful digital transformation process.
Alex Pechinsky, QA consulting group expert and pre-sales manager at a1qa, delivered a speech dedicated to next-gen quality assurance for most innovative software products.
Indeed, when making trailblazing technological solutions a reality, QA support enables businesses to minimize financial and reputation risks.
"I was delighted to join the speakers at the AI Summit last week. I believe this event turned out to be one of the best platforms to discuss the industry's achievements and prospects in innovation.
This year, businesses faced many serious challenges that required prompt and technological responses. And for many players on the market, it was another boost to deliver high-quality innovative approaches and software as quickly as possible.
It was great to share extensive experience of QA support to high tech solutions of our clients," Alex provided his opinion.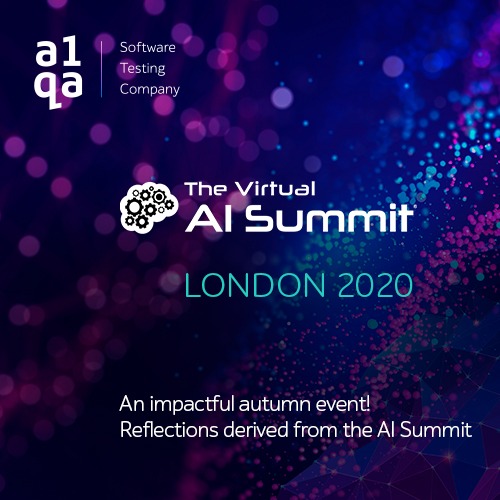 During the AI Summit, we were delighted to communicate with market players and answer their questions covering the role of independent quality assessment on the software development journey as well as share the success stories of delivering QA excellence across many industries.
Wishing to know more about the possible benefits of pure-play QA for your business? Contact us for a personal talk with a1qa's specialists.