News
a1qa partner programs: special proposition for IT peers
The company offers IT specialists and companies to establish valuable business cooperation to improve software quality together.
21 September 2020
We are delighted to start this autumn with an exclusive offer for both individuals and organizations working in the IT sphere. What is it about? Channel and white label partner programs. What do you get by cooperating with a mature QA vendor? Transparent mutual settlements and a wide range of benefits like becoming a part of our team and conquering new software quality vertices.
By leveraging partner programs, IT specialists and companies of any scale and across any industry can expand their basic QA proposition to a new or current customer base relying on next-gen QA services.
To help your clients ensure the delivery of high-quality software products in the market, a1qa offers two types of cooperation.
The white label program for companies. By harnessing it without extra investments, the associate gets full technical support from a1qa specialists and all necessary marketing materials (case studies, brochures, white papers, and more).
The channel partner program for IT specialists. It presupposes two variants of cooperation – lifetime and for 12 months. By engaging in the free program, in addition to professional QA and marketing assistance, one receives a financial reward.
We have already partnered with IT consulting companies, computer software and hardware development organizations, system integrators, and others. Have a look at the latest success story where we enhanced the software quality of a well-known compact equipment manufacturer.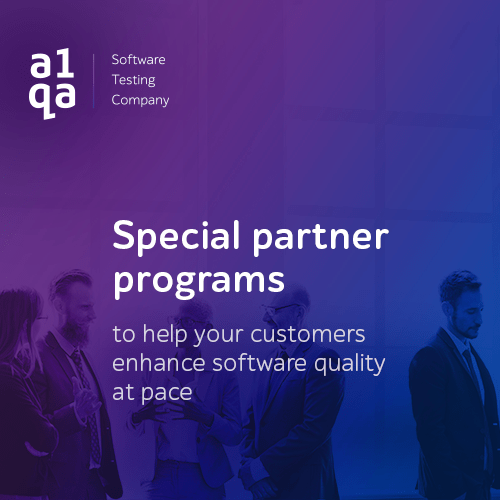 Would you like to join one of our partner programs? Reach out to us to get an online consultation with a1qa experts to discuss everything in detail.